BMW S 1000 RR
By Kevin Ash - 04/11/2010
There is so, so much that could have gone wrong with the introduction of the BMW S1000RR.
The bike has been hyped, details leaked, caught in spy photos and generally talked about with huge anticipation for around five years, when the first barely credible rumours of BMW's attempt at a real superbike surfaced.
It's even been raced in World Superbikes by Troy Corser and Ruben Xaus during the 2009 season, and all the time BMW has been drip-feeding us with tantalising details, encouraging rather than trying to dampen down the hype.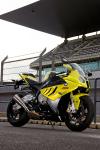 Expectations have been enormous for these reasons, and on top of that, this is BMW's first ever attempt at the most high tech, high performance, high profile class in motorcycling, an arena where the Japanese and Italians expose their very souls along with their most cutting edge technology, backed up by years of race-bred experience.
Customers for these kinds of bikes - the Yamaha R1, Honda Fireblade, Suzuki GSX-R1000, Kawasaki ZX-10R Ninja, Aprilia RSV4 Factory, Ducati 1198S - look for two things in particular: performance as measured in lap times, plus race and sporting heritage.
BMW has no motorcycle race heritage that most modern riders will be aware of, and for those that do know it, the pre- and post-war grands prix successes and 1960s sidecar dominance are hardly relevant to modern superbikes. That leaves performance, which means this entirely new BMW in an entirely new class for the company has to hit the ground running and match not just any bike in the magisterial list above, it has to sit in the upper echelons, and be measured not merely in opinion but in cold, unforgiving performance figures too.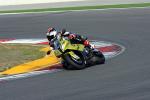 As if all this lot wasn't enough, BMW's own history of new model releases is not the best, especially with its four-cylinder bikes. Going back to the company's first four, the K100 in 1984, this bike suffered two years of various problems and it looked almost as if BMW was using its customers to finish off the development. It was never a great engine anyway, compromised too much by its unique layout. The next new four was even worse: when I first wrote about the K1200S after riding it in July 2004 I made a recommendation to avoid it altogether, at least until it was working properly. The bike was clearly unfinished and quite dreadful to ride as a result, and BMW postponed the showroom launch for another six months. Again it took two years for the bike to reach its potential, and now the 1300cc versions are outstandingly good. But it shouldn't have happened that way, and it helped set an uncomfortable precedent for the S1000RR.
My own expectation then was to be disappointed, even to worry how the huge cost of developing this bike, coming in these troublesome financial times, could affect BMW's future, in addition to any damage to its reputation.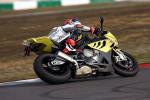 By the end of the first lap of the Portimao Circuit in the Algarve, all those concerns had evaporated. It really was that soon, as like a Fireblade or a GSX-R - and pointedly not like the other contenders - the S1000RR is a bike you feel immediately comfortable on. Not so much comfort in terms of ergonomics, though again it's Fireblade-like in this respect which is also a good thing, but in the reassurance of a bike which simply feels right. There's further support in the hugely impressive electronic options available, which I'll come to, but crucially it's the basics of the bike which BMW has managed to get right first time.
The engine, frankly, is staggering. It revs eagerly at a standstill, promising much with its quick-fire snarls, and once you're rolling its thrust is immense. Comparing figures between bikes is a wasteful exercise as no one seems to measure things in quite the same way, but BMW says its bike has the best power to weight ratio of all the superbikes, and when you open the throttle at the start of a long straight like Portimao's, the way the bike fires itself up the track like a missile suggests that's probably true. It is noticeably and significantly quicker than a GSX-R1000, this is obvious even without a direct back-to-back comparison, and right up there with the quickest, the R1 and Aprilia. This is huge power, a claimed 190bhp, yet it's as easy to control and modulate as on any rival machine, with perfect fuelling and superbly predictable throttle control.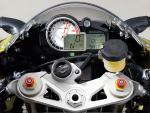 The power is spread wide too, with the huge hit at the top end supported by a muscular mid range that flows smoothly up to the maximum as the revs build, and even low rev torque appears healthy, although that won't really be apparent until we get the S1000RR on the road. There are four modes to get used to, called Rain, Sport, Race and Slick. In Rain the power is reduced to 148bhp and the power delivery is at its softest. In the dry it's still reasonably exciting, until you try the faster modes that is, and in wet weather will be genuinely useful. Sport mode is the everyday good weather one, and this blends that almighty power kick with a gentler throttle response than the next two modes that was ideal for familiarising myself with the Portimao circuit, and then returning to at the end of the day when fatigue was setting in. It'll be perfect for road use.
Race mode gives you a hard edged, direct feel between twist grip and tyre which could intimidate some riders in some circumstances, though still the connection between wrist and rubber is utterly faithful. Finally there's Slick mode, designed as it suggests to be used with slick tyres on the track, and while the directness of the throttle response is full race bike, Slick mode also allows other aspects such as turning off the ABS, which again I'll come to.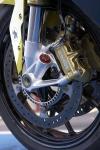 The brakes themselves are outstanding, even in this class. They're a combination of Nissin master cylinder and Brembo radial calliper chosen it seems for the perfect combination of power and feel. And instead of interfering as it usually does on the track, the optional ABS simply adds confidence. You can eventually feel it working, but this is at the point where most riders would be thinking they really don't want to brake any harder anyway. Like the engine response, the ABS changes with the mode selected, coming in soon in Rain mode, then intervening nearer the tyres' limits with each mode change towards Slick.
In the lower two modes the rear wheel lift detector also functions, releasing front brake pressure as the back wheel lifts clear of the ground to help keep the bike in control. In Race and Slick modes this is switched off, and the rear ABS is also switched off in Slick mode to allow rear wheel drifting into turns.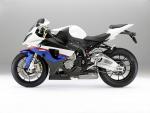 The chassis if anything impresses even more than that magnificent engine. It was this which gave me that instant at-home sensation, and it went on to convince me it's quite probably the best superbike chassis out there. It is on the physical side when circumstances (like Portimao) demand lots of direction changing, in part no doubt due to the non-adjustable steering damper, but it's worth bearing in mind the test bikes were set up with only two extra clicks on the rear rebound damping from stock road settings. In practice for track use you'd raise the rear ride height to sharpen the steering and make the bike easier to flick side to side. But don't start thinking from this it's a heavy feeling machine because it's not. It's very light, very agile and scalpel sharp in its accuracy, going exactly when you point it and not running wide as many bikes do when you wind on the power coming out of a turn.
And wind on the power you certainly can, as the traction control lets you crack open the throttle as wide as you dare then goes on to deal unobtrusively and effectively with rear wheel spin. There's one climbing left hander at Portimao in particular where the bike goes light half way through the turn, and even here the rear just slides gently to one side, tightening the line, then regrips with no lurch from chassis or engine, just a smooth, liquid and utterly expert corner exit that even the best racers would struggle to better. As with the other electronics, the traction control (called DTC or Dynamic Traction Control by BMW but not to be confused with Ducati's DTC traction control) changes with the mode selected in order to suit riding style and conditions.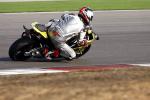 In addition, a lean angle sensor prevents the rider applying power when the bike is leaning more than a predetermined amount, and this too changes with the modes. The only time most riders would notice will be if they select rain mode then lean the bike in the dry. The bike refuses to accelerate until you start to bring it back towards vertical, then the power cuts back in (smoothly...) and the bike carries on as normal.
It's unusual to see the name Sachs on the suspension of a top quality sports bike, but both forks and rear shock bear the name, and as with the rest of the bike, Sachs has instantly matched the best available. The fat 46mm forks are ride height adjustable as well as with the usual damping settings, while the shock offers low and high speed damping adjustment as well as spring preload and ride height. The rider's job is made much easier by a simple and obvious idea: the adjusters are marked with clear numbers from 1 to 10, so no more counting clicks, and are even colour coded for rebound and compression damping.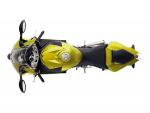 A full technical appraisal will be coming here shortly, but what matters most and first is what the S 1000 RR is like to ride and how it compares with its rivals. The answer should be very clear now: this bike is not only right on the pace, it's at the high end of the class and I wouldn't be surprised if it came out as class leader in terms of outright performance. But more than that, it's the easiest of all to ride fast, very natural, enormously confidence inspiring and as well as everything else, perhaps the most important factor of all, it's a huge amount of undiluted, unequivocal fun.
BMW has done it.
BMW S 1000 RR valve train technology feature
£10,950 on the road.
£12,235 Sport version with ABS/DTC

Contact: BMW (GB), 01344 426565

www.bmw-motorrad.co.uk