Aprilia Tuono V4R APRC review
By Kevin Ash - 29/01/2012
Aprilia has form when it comes to creating mad streetfighters. The original Tuono in 2002 was not so much based on the RSV Mille R superbike, it was an RSV Mille R superbike...
Where other manufacturers were playing safe by detuning and softening their own superbike-derived naked machines, Aprilia took the fairing off the RSV... er, and that was it. Okay, there were some minor exhaust and intake changes but its 130bhp was close to the Mille's output, while the frame and suspension were unchanged.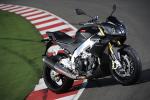 There's no doubt the new Tuono V4R follows in the same vein. It's based on the thrilling and hugely capable RSV4 APRC SE superbike, in contention with the BMW S1000R as the finest sports bike you can buy right now, and while the engine's been tamed, it's a bit like taming a lion by tying a length of wool around its mouth. The intake trumpets are 20mm longer, to move the torque peak lower down the rev scale, the flywheel mass has been increased to improve low rev manners and smoothness, the first three gears are lower ratio than the RSV4's, and while the camshafts are the same, the inlet cam has been advanced by 10 degrees, decreasing the valve overlap and boosting mid-range torque at the expense of some top end power.
This has hardly left it weedy: output is still 165bhp (167.3PS, 123.1kW) at 11,500rpm, 800rpm below the lowered rev limit and 13bhp less than the RSV4. And to keep it all in check the Tuono V4R APRC (the model tested, although a non-APRC version is also available, in the UK and some but not all other markets) features Aprilia's class leading traction control, launch control, wheelie control and quickshift gearchange systems.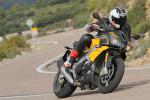 There are three engine map modes too: Track is full on with an aggressive throttle response, Sport is for fast road use (or as Aprilia puts it, maximum fun) with a smoother response and restrictions on torque according to gear and road speed, while Road cuts power by 25 per cent across the range, with the softest throttle response. In effect this means Aprilia reckons 124bhp is nice and safe for wet weather and urban use...
The chassis has had more significant changes to try and keep things sane for road use. The cast front section of the frame is new, moving the steering head forwards, and the engine has been lowered by the simple expedient of drilling the mounting holes lower than in the RSV4. This has lowered the overall centre of gravity, making the bike more stable, along with the increased wheelbase. The wheels are new, lighter 3-spoke items, while the small fairing has been altered since the Tuono V4R was first shown in Milan in 2010 to improve aerodynamic stability, and the challenging looks of the show prototypes.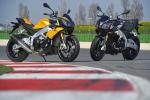 It's still hardly a pretty thing, but it no longer makes you look away, and in the test bike's yellow (only available to special order in the UK) is certainly dramatic and eye-catching. It's a street fighter anyway, it's meant to look like a crashed superbike...
My first ride was on the roads surrounding the Valencia MotoGP circuit, many of which are demanding for any bike. The riding position is natural with a forward lean and high but not uncomfortably so footrests, although the handlebars are angled slightly too far forward for me and get my wrists aching a touch after an hour or so. The seat is hardly plush either, but while it made itself noticed in less than an hour, it wasn't any worse three hours later.
What you do notice immediately is the engine: this is a fabulous road engine with huge torque and an instant, obedient response that urges you to turn the twistgrip wide whenever there's an opportunity. The reward is twofold: huge thrust pretty much regardless of gear and a visceral bag of snarls and wails that goads you into caning the bike if only to hear it, aside from the rocket punch of the machine beneath you.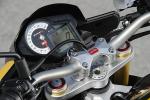 What you then notice are some improbable numbers on the dash, and for once I don't mean the speedometer, but rather squarely, the economy reading. On my bike this was set in litres per 100km, and in what I'd say is relatively gentle riding for a Tuono V4R, this wandered between 7.2 and 8.5l/100km. That's 39mpg UK, 13.9km/l, 32.7mpg US, down to 33mpg, 11.8km/l, 27.7mpg US. Use it hard (and this was on some quite tight roads so there were limits on just how hard we could thrash the bike here which won't be the case in more open places) and the numbers fall to 28mpg, 10km/l, 23.5mpg US.
Now if banging on about mpg on a mad streetfighter with 165bhp seems like missing the point, this is at a level where not only is cost going to become a factor even for lower mileage riders, the 3.75 gallon (17 litre, 4.5 gallon US) tank is good for only 100 miles before the warning light flashes. And that's the theory assuming the fuel computer is accurate, on the road ride my light was flashing after 92 miles, suggesting the real numbers are even lower.
If your Tuono V4R is going to be your only bike, you'd better not have it lined up for too many long distance trips, and get to like filling stations as you'll be visiting them a lot.
It's such a shame because in other respects it's a wildly exciting and highly capable road bike. You can loft the front wheel with a quick crack of the throttle in second or even third gear with a bit of help from an undulation (with the wheelie control switched off, although with it on, the front does come up, but then the electronics lower it again smoothly and expertly).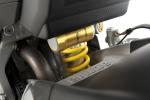 The suspension, top quality Sachs equipment front and rear, is firm yet copes with even some very bumpy roads extremely well, although you do feel the impacts of bigger bumps through your wrists quite firmly. But the surprise is just how good the Tuono V4R is at keeping its wheels in contact with the road and generally remaining unflustered and stable pretty much regardless of what you're doing or where you're doing it. Agility is very good and combined with the big torque from low to high revs, this makes the Tuono a supreme backroads weapon, especially as the higher-than-sports-bike bars give you an added advantage in visibility as well as changing direction.
The riding position is less cramped than you might expect of an RSV4-based machine too - the bars along with the extended frame and reasonably spacious seat-to-footrest distance allow you a decent amount of room, although you do still feel quite perched on top of the bike, a sensation enhanced by the exaggerated lowness of the fairing that's visible to the rider. This deflects enough airflow to allow steady cruising up to 90mph (145kph) or so, but crouch down and you tuck into its small wind shadow better and could probably make the bike's 160mph (260kph) top speed without feeling like you're going to be plucked from your seat.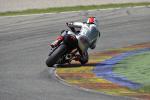 To get a better idea of the bike's true performance, we were let loose on the Valencia circuit, tight by MotoGP standards but with plenty of twists and turns and a good test for a road bike. The issue here is that the bikes were quite a long way from being standard. Some changes are merely adjustments which any owner could make before a track day outing, and I'll list them here as they could be useful: the yokes were dropped 4mm down the forks to lower the front, fork spring preload was increased by one turn, while compression damping was increased from 6 to 3 clicks from full and rebound from 10 to 6 clicks. At the rear, spring compression was increased by 2 turns (4mm), compression damping adjusted from 2 to 1 click out and rebound from 20 to 12 clicks from full.
But there was more controversial stuff too. The stock 190/55 Pirelli Diablo II rear tyre for example was replaced with a 200/55 Super Corsa, which technically is okay as the bike is homologated for this as well as the 190, and you'll be getting through tyres almost as fast as fuel on the Tuono V4R. There was an accessory adjustable steering damper fitted too, which is an extra if not an uncommon one. But few owners will be wanting to replace the stock rear shock with one from the RSV4R, which is what was done to ours. Aprilia said the shocks are the same aside from the RSV4R's additionally facility to alter the ride height - on our Tuonos an extra 1mm was dialled in on the shock, equating to maybe 5mm of actual ride height change.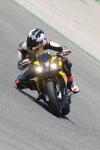 But this begs the question, what was wrong with the bike in the first place that this needed to be done? Probably nothing, probably these changes simply enhanced an already fine handling bike (it was great on the roads after all), but I can't imagine many owners buying a new RSV4R shock for their new Tuonos, and not so many will be happy fitting that bigger rear tyre either. So bear in mind what I was testing was not exactly out of the crate.
In fact, as you'd have a right to expect, this breathed on Tuono V4R was magnificent around Valencia. It's difficult to see how many non-streetfighter superbikes could have been much quicker, as it was turning sharply and accurately, heeling over smoothly and predictably and remaining stable even with the brakes trying to strip the tread from the front tyre and the slipper clutch desperately shedding back torque.
Powering out of a turn on an APRC Aprilia is a revelation. On settings 7-8 the system is intrusive, good for only the novice riders who really shouldn't be on a bike like this anyway, but thumbing the menu button to lower the numbers gives a numerical measure of your skill and bravery. I dabbled in level 2 but quickly went back to 3 (thinking 1 is a special for Max Biaggi only), as even on three the rear tyre is stepping well out of line and the bike's nodding, shifting and drifting as mere electrons stop it spinning insanely out of control. You're painting black stripes on the track by this stage, and yet the beauty of the Aprilia system is how much control you still have, to the point where you can still fine tune the direction the bike is pointing with the throttle.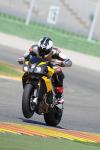 As the tyre digs in when you flick the bike upright again, the front wheel regularly lifts, and wheelie control deals with that, lowering it benignly, without the hopping action you sometimes get on the S1000RR. And all the time you're climbing through the gearbox with a nudge of your toe, not touching the clutch nor closing the throttle, the ratios shifting seamlessly. The lever action is a touch heavier than a conventional one so you start to feel it on your toe after extended track time, but it's reliable and deliciously rapid.
The launch control you can read about in the RSV4 APRC SE review, we didn't get a chance to try it here but it's no different on the Tuono V4R APRC, so expect to be disappointed by that.
What you don't get is ABS. Aprilia says that will be coming in a year or so, and my suggestion that it would be the latest ultra-lightweight Bosch system just appearing on bikes like the KTM SM T ABS and Ducati Monster, with Aprilia's own software driving it. For now you depend only on feedback, but there's plenty of that married to the sort of outstanding control we're used to from equipment with a Brembo badge.
Ground clearance is very good, although eventually the footrests do touch down (along with the toes of my Alpinestars...), but by this point the bike is well on its side, and this is not really an issue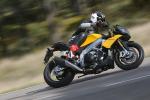 As supplied then the Tuono V4R APRC is a cracking good track bike, and it's not beyond the wit of an owner to set up his own bike exactly like the one I was riding. The main obstacle would be that rear ride height adjustment, which you don't get on the stock bike, but the rest is do-able. But this does have to skew the judgement of the bike. It's probably extremely good on the track out of the crate, but it won't be as good as you'll be reading in various reviews.
As a road bike it's thrilling, capable, sounds fantastic, very torquey and gaspingly thirsty with a silly tank range as a result. If economy and range bother you, you'll be very bothered by this. If they don't, then go for it, it's otherwise a glorious bike.
Specifications
Model tested: Aprilia Tuono V4R APRC
UK price: £11,495 (Tuono V4R standard: £10,495),
Black available now, silver available May, yellow by special order only.
US availability, winter 2011, APRC model only, pricing to be announced closer to the time
Black, silver and yellow all available
Engine: 65 degree V-four, liquid cooled, dohc 16v, 999.6cc
Power: 165bhp (167.3PS, 123kW) @ 11,500rpm
Torque: 82lb.ft (11.3kgm, 111.5Nm) @ 9,500rpm
Economy: 34mpg (12.0km/l, 8.3l/100km, 28.3mpg US)
Tank/Range: 3.75 gallons (17 litres, 4. 5 US gallons)/ 130 miles
Transmission: Six gears, wet slipper clutch, chain final drive
Chassis: Twin spar aluminium
Seat height: 32.9in (835mm)
Wheelbase: 56.9in (1445mm)
Rake/trail: 25 °/ 4.23in (107.5mm)
Weight: 404lb (183kg) (dry)