Zero XU 2011
By Kevin Ash - 15/01/2012
Zero Motorcycles has announced a new model with a power pack that can be removed for recharging.
The XU is designed mainly for city dwellers who are unable to park an electric motorcycle within reach of their charging point. Riders with no street level access or garage can instead remove the battery pack and recharge the bike in their home. In addition, the XU comes with a quick-charge option that reduces charging time to one hour, according to Zero.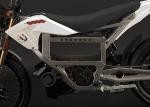 The XU is based on Zero's X off-road model platform, with new street running gear and bodywork. Cost in the UK is £6,695, which includes a two year warranty.
Contact Zero at Zero Motorcycles
Donate to the Kevin Ash Fund
Kevin's funeral was held on Thursday 28th February 2013 and was well attended by family, friends and colleagues.
The Telegraph has very kindly established The Telegraph Kevin Ash Fund to assist with the education of Kevin's three daughters.
If you'd like to make a donation then you can use the PayPal 'Donate' button below which will allow you to donate from your PayPal account, or via credit or debit card. A small percentage (about 3.4%) will be retained by PayPal for the service.
Kevin's family have been touched by the generosity and messages of support from people using the website and would like to express their gratitude to those who have contributed in any way.
The donations keep coming in, thank you so much, and the family especially like it when you leave a message.