Yamaha FZ8
By Kevin Ash - 27/03/2010
Yamaha has released the first complete picture of the forthcoming FZ8.
But it was pressured into doing this early after images were leaked to Italian magazine Motociclismo!
Clearly the bike is closely based on the 2010 FZ1 (pictured below in blue and silver), with colour variations such as gold instead of black forks and wheels, different exhaust downpipes and silencer, no radiator shrouds, restyled headlight and surround, and different mirrors, front brake discs, fuel tank front cover and tail unit.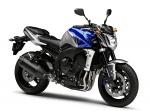 No technical details have been released, but Motociclismo claims the FZ8 features a sleeved down version of the FZ1 engine, which should result in a less peaky power curve with plenty of low rev urge. Expect power and torque peaks of around 120bhp (62kW) and 65lb.ft (88Nm).
More details are due in the middle of February... or sooner if any more leaks occur.
Donate to the Kevin Ash Fund
Kevin's funeral was held on Thursday 28th February 2013 and was well attended by family, friends and colleagues.
The Telegraph has very kindly established The Telegraph Kevin Ash Fund to assist with the education of Kevin's three daughters.
If you'd like to make a donation then you can use the PayPal 'Donate' button below which will allow you to donate from your PayPal account, or via credit or debit card. A small percentage (about 3.4%) will be retained by PayPal for the service.
Kevin's family have been touched by the generosity and messages of support from people using the website and would like to express their gratitude to those who have contributed in any way.
The donations keep coming in, thank you so much, and the family especially like it when you leave a message.