Yamaha FJR1300 2013 review
By Kevin Ash - 17/10/2012
Yamaha by its own admission has drawn in the horns during the recession. This might have worked with a short, sharp economic downturn, but now it's dragging on, and Yamaha is stuck.
It's facing a depressed market with an ageing, expensive range of bikes, and guess what: they're not selling well. At Cologne we were promised a return to a full commitment and Yamaha's core values of innovation and performance, by senior executive Kunihiko Miwa, but in the meantime the company is still having to survive - and there are even questions hanging over this most fundamental condition - on its current range.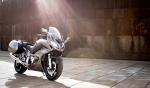 So the 11 year-old FJR1300A touring bike has not been replaced in the face of high tech and very accomplished opposition from Triumph, BMW and others, it's merely been given a facelift. It's an effective one though, especially as the changes made to the engine have improved smoothness and response in particular.
The intake system has been revamped with new throttle bodies, intake funnels and air cleaner, and at the other end of the process is a reshaped exhaust system which is lighter and more efficient - it comes with two instead of four catalysers. The engine's old steel cylinder liners are gone, replaced by hard coated aluminium and lower friction piston rings are fitted, with the result that power is up 3bhp to 144bhp. The new ride-by-wire full throttle operation has facilitated the fitment of an obedient and predictable cruise control, as well as two power modes, Touring and Sport, although the Touring setting makes the engine feel so flat you wonder why they've bothered, because few owners will.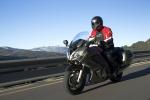 Sport is where it will stay most of the time, but here too, despite the improvements, it does show too much of a sporting character for a touring bike, insofar as you need to rev it to get the most from it. Below 5,000rpm, which is where the motor will be used most of the time, there's simply not enough thrust, especially compared with a really torquey engine like the Triumph Trophy. To overtake or up the pace when a road gets temptingly snaky you constantly need to work the gearbox, which is not how a bike like this should be. It's like this solo and two up the problem's exacerbated.
You hear a lot of complaints that the FJR only has five gears, especially as it can feel too revvy at steady motorway speeds, but a taller sixth gear would drop the motor into that flat-feeling zone at lower revs and it wouldn't pull it effectively. Five seems to be the only option here.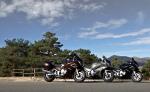 It's a shame as the engine feels very good in other respects, and the kick of horsepower higher up the rev range makes this one of the quickest touring bikes. But that's the issue, few riders want a touring bike that's quick only when you ride it like a sports bike. The engine is a lot smoother than older versions for example, with just a hint of vibration in the mid-range, nothing to trouble anyone, and practically none elsewhere. It's efficient too, returning 48mpg in mixed riding and dropping only to 45mpg when used harder, That means a genuine 260 mile range from the 5.5 gallon (25 litre, 6.6 gallon US) tank, which is impressive considering the power.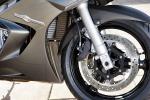 The chassis changes aren't extensive either. Disappointingly the FJR1300AS with its electronically adjustable suspension isn't yet available - that's due in showrooms in April 2013 and the press will be getting a presentation shortly before then - but the standard FJR1300A has revised suspension anyway. This includes lighter fork internals of aluminium instead of steel with progressive rather than linear springs and firmer damping settings, while the rear shock is significantly firmer. New Metzeler Roadtec Z8 Interact tyres are fitted in place of the old Roadtec Z6s, with Bridgestone BT023s as an alternative in some markets (instead of BT021s) - these are each excellent tyres, while the Metzelers have astounding wet weather grip.
The result of all this is an exceptionally good ride quality, substantially better at absorbing potholes and sharp ridges even than Triumph's high spec electronically adjustable suspension, and while the FJR can get just a little bouncy when you push it hard, that's perfectly acceptable given its excellence at its prime task of providing a plush ride.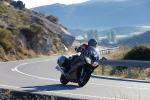 It's the steering which lets the bike down. It's better than it used to be but still you need to put pressure on the inside handlebar to keep the bike on its line in a corner, which after a long distance on twisty roads gets tiring. Compared with the Triumph's fluid and natural feel the Yamaha still feels a decade old. Despite its lighter weight it also feels heavier, with a slower response to bar inputs than the triumph. Its only when manoeuvring at parking speeds that you'd guess the Trophy is the heavier bike.
The weather protection is good, although not as generous as on BMW, Honda and Triumph rivals. The frontal bodywork is all new, including the screen, and it has a sharper look than before but the aerodynmaics are improved too. The wind noise is low except for above average height riders, and even then it's acceptable. The screen is adjusted electrically and drops low for sportier riding or around town. although doing so exaggerates the feeling of being perched on top of the bike. Comfort generally is pretty good, although the seat starts to feel a little hard after a couple of hours on board, but in this respect it's not a bike you'd baulk at taking on a long distance tour.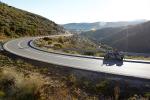 You might not want to do it two-up though. The space is adequate if rider and passenger aren't too large and comfort on the back is good too, but Yamaha recommends you either have the panniers, which are a reasonable but not over-generous capacity, or you have a top box, but not both, as it could exceed the design weight limit of the rear subframe. That seems like quite an oversight these days.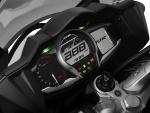 Other detailing is good though, including the handsome dash which is comprehensive with its information, and the automatic locking small compartment in the left of the fairing. Then again, Triumph's locks and unlocks automatically and also includes a credit card holder, so this is only par for the course rather than ahead of the game.
Operating the cruise control is straightforward and it works very well, without the fuss and dithering of Triumph's first system, and in the same way the traction control - a safety oriented rather than performance system - is exceptionally smooth and unintrusive. On a dirt road for example where many such systems have a bike lurching as the power cuts in and out, the Yamaha simply glides along serenely with the power and wheelspin under efficient and discreet control. The standard fitment heated grips work well too.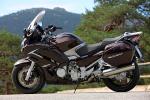 The build quality is outstanding, in typical Yamaha fashion, with tight panel gaps, flawless paint and a feel that this bike will keep working perfectly until its travelled every road on earth. But it needs more low rev torque and more neutral steering.
The good news is, Yamaha has pledged to make its price genuinely competitive, finally accepting that very high prices mean you don't sell many bikes. Sort of obvious, you'd have thought. This means a similar price to the base model Trophy, which means around £12,900 in the UK. The actual figure will be announced in mid November.
Specifications
Model tested: Yamaha FJR1300A
UK price: £12,900 (est)
Available: December 2012
Engine: four cylinder, liquid cooled, dohc 16v, 1298cc
Power: 144bhp (146PS, 107.5kW) @ 8,000rpm
Torque: 102lb.ft (14.1kgm, 138Nm) @ 7,000rpm
Economy: 48mpg (17km/l, 5.9l/100km, 40mpg US) (on test)
Tank/Range: 5.5 gallon (25 litres, 6.6 gallons US) / 260 miles (420km)
Transmission: Five gears, wet multi-plate clutch, shaft final drive
Frame: aluminium tube
Seat height: 31.7-32.5in (805-825mm)
Wheelbase: 60.8in (1545mm)
Rake/trail: 26 ° / 4.3in (109mm)
Weight: 637lb (289kg) wet, full tank