World's Oldest Bike For Sale
By Kevin Ash - 30/10/2010
The world's oldest motorcycle is to go on sale later this month.
Bonham's is offering an 1896 Hildebrand & Wolfmüller at its Stafford Classic Motorcycle Show sale on April 25, a machine credited as being the world's first production motorcycle. Earlier machines were made but these were all effectively bicycle frames with some kind of engine fitted.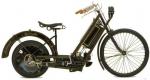 The Bonhams bike has been family owned in the USA since the 1930s and is in original, unrestored condition and appears to be complete.
The bike is powered by a 1488cc engine with bore and stroke of 90 x 117mm which made 2.5bhp at 240rpm. The transmission was rather basic: the piston was fitted with two conrods which connected directly to the rear wheel, with rubber band assistance to help return them.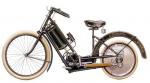 A little more advanced was the cooling system, which used water stored inside the rear mudguard. Lubrication was total loss, combustion was fired by hot tube ignition and a surface carburettor supplied the fuel.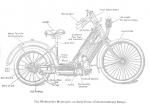 Somewhere between 800 and 2,000 machines were built from 1894 to 1897, although it wasn't considered a great commercial success.
Bonham's estimated price is £40,000 to £60,000.
Donate to the Kevin Ash Fund
Kevin's funeral was held on Thursday 28th February 2013 and was well attended by family, friends and colleagues.
The Telegraph has very kindly established The Telegraph Kevin Ash Fund to assist with the education of Kevin's three daughters.
If you'd like to make a donation then you can use the PayPal 'Donate' button below which will allow you to donate from your PayPal account, or via credit or debit card. A small percentage (about 3.4%) will be retained by PayPal for the service.
Kevin's family have been touched by the generosity and messages of support from people using the website and would like to express their gratitude to those who have contributed in any way.
The donations keep coming in, thank you so much, and the family especially like it when you leave a message.