Woman Buys Moto Guzzi
By Kevin Ash - 23/10/2011
A woman who was on television ages ago playing the part of a policewoman spying on a bloke, getting found out, quitting, marrying the bloke then opening up a nail salon, staffing it with Daleks before turning lesbian and having an affair with a Bulgarian telephone sanitiser, has bought a Moto Guzzi.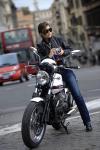 No, it's true, she really has bought a Guzzi. But she might have got a good deal because she used to be famous once, and it's only a little Guzzi V7 Classic and doesn't cost much anyway, not like a Stelvio or anything which is a bit tall for a lot of women.
Donate to the Kevin Ash Fund
Kevin's funeral was held on Thursday 28th February 2013 and was well attended by family, friends and colleagues.
The Telegraph has very kindly established The Telegraph Kevin Ash Fund to assist with the education of Kevin's three daughters.
If you'd like to make a donation then you can use the PayPal 'Donate' button below which will allow you to donate from your PayPal account, or via credit or debit card. A small percentage (about 3.4%) will be retained by PayPal for the service.
Kevin's family have been touched by the generosity and messages of support from people using the website and would like to express their gratitude to those who have contributed in any way.
The donations keep coming in, thank you so much, and the family especially like it when you leave a message.