TT Milestones Calendar
By Rachael Clegg - 28/05/2013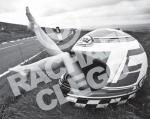 A goose, a budget blonde from Rochdale, several tubs of Swarfega, umpteen gallons of diesel, an Aljazeera journalist and an assistant with a bladder problem: that's all it took to create the 2013 TT calendar. Who needs swanky Pirelli professionals when you have Manx farm animals and a woman with urinary issues?
These were the ingredients of the TT calendar, which photographer Peter Greste, assistant Shaz Nicol and me, Rachael Clegg, embarked on in the last year. The result - 15 leaves of milestone madness - is available now at this address:
Rachael Clegg's 2013 TT Calendar - On Sale Here!
The idea to create an arty, slightly comedic TT calendar struck me on the journey back from TT 2010. I'd recorded the sound of an AJS warming up on my dictaphone (a wonderful 'growl' noise) before the classic lap, which I listened to on my return journey. Like you do... On the same dictaphone there was also a recording of a very funny TT press conference, and the combination of humour, the visceral thrill of a classic engine and the post TT blues got me thinking-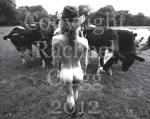 Within a week I'd decided to create a TT calendar - one that did justice to the quirky history of the Isle of Man TT races by interpreting it in an artistic manner. I researched dozens of unusual tales from the race's 105-year history and used each tale as inspiration for the images, which I sketched out as I was doing the research. There are enough shots for each of the 37 and three quarter miles of the course - this calendar is part one.
The calendar nods to my heritage - both my dad and granddad were TT racers (though dad more than granddad). All the props are genuine, kindly lent to me by Guy Martin, John McGuinness (in whose leathers I was almost arrested), Ian Lougher, my father, a farmer (who lent me the goose) and an eccentric Manxman. Even the jerry can in the Brandywell image has a history - it belongs to veteran TT racer Vin Duckett.
Rachael Clegg's 2013 TT Calendar - On Sale Here!
With the exception of Brandish Corner, which was foolishly shot at rush hour, all the pictures were taken at around 4am over a four-week period throughout the TT and Manx Grand Prix. My alarm would go off at 3am - I'd get ready, grab Peter (photographer) and Shaz (assistant) and we'd load the van and go to whichever sections we'd planned. But there were always set-backs: weather, very keen speed walkers and on one day the photographer even forgot the camera. It was all very Carry On.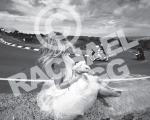 I'd get back after doing the pictures, shower, and then head to the Start to cover the TT as a journalist for the Yorkshire Post. By the end of race week I was a total zombie and I still have flashbacks of almost being run over with no clothes on at Creg Ny Baa.
The photographer - who transformed my crude sketches and poorly articulated ideas into great shots - is Aljazeera's Africa reporter and a former BBC foreign correspondent; more at home in a war zone than legging it round the TT course with a woman with a penchant for extreme nudity.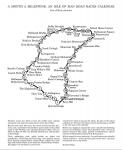 Making the calendar was hilarious - I've never giggled as much in my life. It was bloody cold though on the Mountain at 4am - you can see the goosebumps on the Windy Corner image (November). I may not possess the racing panache of a TT racer - perhaps legging it around the course with Manx farm animals is the best I can do.
Rachael's background is in art - after her A-levels she went to art school in Manchester, then was awarded a first in art history (BA) at the University of York, where she won a scholarship to study the subject as an MA. Throughout all this and after graduating she worked at Tate Liverpool and from 2005 taught art to children and teenagers with behavioural problems. She's now a journalist and features writer. And nude calendar star...
Donate to the Kevin Ash Fund
Kevin's funeral was held on Thursday 28th February 2013 and was well attended by family, friends and colleagues.
The Telegraph has very kindly established The Telegraph Kevin Ash Fund to assist with the education of Kevin's three daughters.
If you'd like to make a donation then you can use the PayPal 'Donate' button below which will allow you to donate from your PayPal account, or via credit or debit card. A small percentage (about 3.4%) will be retained by PayPal for the service.
Kevin's family have been touched by the generosity and messages of support from people using the website and would like to express their gratitude to those who have contributed in any way.
The donations keep coming in, thank you so much, and the family especially like it when you leave a message.