Triumph Tops UK Sales
By Kevin Ash - 15/01/2012
Triumph sold more big motorcycles in the UK in April than any other brand, including Honda.
Despite motorcycle sales in the UK falling by 20 per cent in 2009, and worldwide sales collapsing by even more, the Hinckley-based bike maker grew by almost five per cent in that time.
Now Triumph is Britain's best seller in the 500cc-plus sector, and it's aiming to make this a permanent ranking with a raft of new models due to be released in the next few years.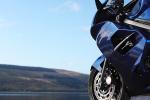 Triumph is expecting to sell 9,000 bikes in the UK this year, but this is less than a fifth of the 46,000 planned for production and sale overseas. While this is still a tiny fraction of Honda's total output, it does mean Triumph is becoming increasingly significant in the sophisticated, high end and most profitable segment of the motorcycle market, in addition to the fundamentally healthy situation of growing and increasing market share.
Triumph is already ahead of Ducati in production numbers, closing in on KTM (and well ahead in road bike sales) and making more than half the number of bikes of BMW.
The company has big hopes too for the Thunderbird cruiser, voted bike of the year in the USA despite being directly pitched at the home team Harley-Davidson.
Donate to the Kevin Ash Fund
Kevin's funeral was held on Thursday 28th February 2013 and was well attended by family, friends and colleagues.
The Telegraph has very kindly established The Telegraph Kevin Ash Fund to assist with the education of Kevin's three daughters.
If you'd like to make a donation then you can use the PayPal 'Donate' button below which will allow you to donate from your PayPal account, or via credit or debit card. A small percentage (about 3.4%) will be retained by PayPal for the service.
Kevin's family have been touched by the generosity and messages of support from people using the website and would like to express their gratitude to those who have contributed in any way.
The donations keep coming in, thank you so much, and the family especially like it when you leave a message.