Triumph Tiger Explorer News
By Kevin Ash - 25/09/2012
Triumph has released the first official pictures of its new BMW GS rival, the 1200cc Tiger Explorer.
The bike is powered by a 1200cc, three-cylinder engine with Triumph's first ride-by-wire throttle system, and comes with cruise control, traction control and switchable ABS.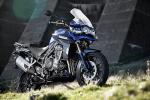 The bike follows much of the same basic look and specification as the current Tiger 800, including a similar tubular steel frame, but is notable as the first modern Triumph to feature shaft final drive, in line with direct rivals the R1200GS, Yamaha Super Ténéré and Moto Guzzi Stelvio. This is integrated into a single-sided swingarm design. Wheel sizes are 17 inch rear, 19 inch front.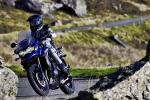 Various options and accessories are promised but not yet specified, including hard and soft luggage, low and high seats plus a range of electrical items likely to include heated grips, lights and so on.
Just one technical detail has been confirmed, which is the fitment of a class leading 950W alternator, enabling the simultaneous use of many accessories and heated clothing too.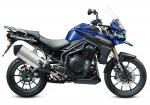 Disappointingly (especially for the journalists flown to London from around Europe only to be given a memory stick with a handful of pictures on, after a long presentation about Triumph's corporate success...) Triumph has not confirmed any important details such as power and torque figures, weight, tank size or fuel range. It's possible to make some guesses: Triumph is claiming class leading performance, which assuming the Multistrada is not included in the class means a power output of around 130bhp (97kW). Staff at the presentation also suggested the fuel range was better than the R1200GS, which at least means this was considered important at the design stage, so expect a tank size of at least 4.6 gallons (21 litres, 5.6 gallons US).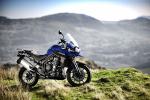 There are also no pictures of the shaft system itself. This looks bulky but Triumph appears aware of reliability issues with BMW's and claims their own is exceptionally strong. But then they would...
As with the Tiger 800 and according to Triumph's general policy, there is nothing ground breaking technologically about the bike, while the styling is conservative too, closely following the Tiger 800's generic adventure bike look. Even so, Triumph has been enormously successful building exceptionally good motorcycles to this unadventurous formula - clearly this accords with customers' own priorities.
Full details will be released at the Milan EICMA show on November 8.
Donate to the Kevin Ash Fund
Kevin's funeral was held on Thursday 28th February 2013 and was well attended by family, friends and colleagues.
The Telegraph has very kindly established The Telegraph Kevin Ash Fund to assist with the education of Kevin's three daughters.
If you'd like to make a donation then you can use the PayPal 'Donate' button below which will allow you to donate from your PayPal account, or via credit or debit card. A small percentage (about 3.4%) will be retained by PayPal for the service.
Kevin's family have been touched by the generosity and messages of support from people using the website and would like to express their gratitude to those who have contributed in any way.
The donations keep coming in, thank you so much, and the family especially like it when you leave a message.