Triumph Tiger 2012
By Kevin Ash - 25/09/2012
Triumph has updated the Tiger 1050 with a series of changes that move it further from any off-road pretensions it might have had.
The move creates more room between the Tiger 1050 and the imminent new adventure bike, which will have a much stronger off-road bias.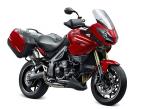 The changes for the 2012 model year include new suspension with firmer damping and a 29 per cent stiffer rear spring, aimed at giving the bike a sportier feel and coping better with two-up riding.
The riding position is also more sporting thanks to the new, tapered and anodised aluminium bars being set 0.8in (20mm) lower than the old steel ones.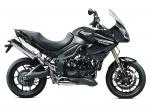 Other changes are cosmetic, including Speed Triple-style graphics and various items being given a black finish where previously they were chrome or alloy. These include the wheels, sprocket carrier, brake callipers and footrest hangers, while the silencer and heel guards are brushed rather than polished aluminium.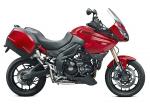 The standard 1050 comes only in black, while the SE version is available in red, white and a two-tone black/graphite. This also comes with ABS, handguards, centre stand and panniers.
Prices are £9,099 and £9,999 for the SE.
Donate to the Kevin Ash Fund
Kevin's funeral was held on Thursday 28th February 2013 and was well attended by family, friends and colleagues.
The Telegraph has very kindly established The Telegraph Kevin Ash Fund to assist with the education of Kevin's three daughters.
If you'd like to make a donation then you can use the PayPal 'Donate' button below which will allow you to donate from your PayPal account, or via credit or debit card. A small percentage (about 3.4%) will be retained by PayPal for the service.
Kevin's family have been touched by the generosity and messages of support from people using the website and would like to express their gratitude to those who have contributed in any way.
The donations keep coming in, thank you so much, and the family especially like it when you leave a message.