Triumph Tiger 1050 2012
By Kevin Ash - 14/08/2012
One bike that's slipped through my testing net is Triumph's consistently popular Tiger 1050.
This was introduced in 2007 as a more road-biased successor to the Tiger 955i, which it's tempting to call a big capacity trail bike. But Triumph has only ever claimed this series of Tigers is off-road styled, without ever suggesting they have any real capability in the dirt, setting the Tiger 1050 up against bikes like the Honda Varadero as more of an upright all-rounder. Most recently, the Kawasaki Versys 1000 and Honda Crossrunner have been pitched into the same sub-adventure category.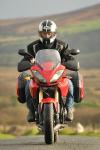 Now for 2012 the Hinckley factory has accepted the 1050 as the sports tourer it always was, moving it away from the imminent Tiger Explorer's territory and uprating it. Three things have been done to underline its position: the suspension has been revamped better to suit the pure road role, with firmer damping front and rear and a hefty 29 per cent increase in the rate of the rear spring; the handlebars have been replaced with another pair almost an inch (20mm) lower, for a sportier riding position; and third, the long-running Sprint sports tourer has been dropped from Triumph's 2012 range to leave an appropriate gap (although the Triumph Sprint GT continues in some markets, including the UK).
Of the three Tigers there's no third best about the 1050. When the bike first appeared the engine was a development of the previous 955i and it does now give away a hint of its age with a slightly slower throttle response than a more modern motor, but you really have to be looking for fault and it's typically characterful Triumph anyway with its appealingly growly three-pot aural signature and smooth delivery. The gearbox has echoes clunky, old-school Triumph, but again you'd not notice unless it was mentioned. Oh, I have, sorry...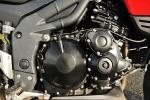 The power is spread evenly, although a little more thrust at lower revs would suit the Tiger 1050 better - again, this appears to be an age issue rather than design intent - but it's a pleasure to use and doesn't demand regular gearchanging to keep you moving, which it does at an impressive pace when asked. Fuel economy is an unremarkable low 40s to the gallon, but the range from the 4.4 gallon (20 litres, 5.3 US gallons) tank is still around 180-190 miles (300km), and backing off to more sedate speeds does stretch that to 200 (320km), better than many other bikes pitching into the sports tourer slot.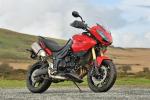 Where the Triumph Tiger 1050 really scores is the comfort with which it carries you over that distance. As more and more riders are discovering, the quasi off-road riding position of adventure-type bikes is easily the best for distance road use because of its spaciousness and upright stance. What you need to have with it is good wind protection and here the Tiger is outstanding, the screen directing the air away from your upper body with unusual smoothness and quiet: it really should be required riding for many other bike designers.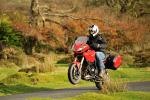 Add a passenger and with one exception the story's the same: a well thought through machine that provides space, comfort and relaxed touring matched to an exhilarating pace, and the firmer suspension no longer feels overwhelmed as it apparently could on loaded up earlier versions. The handling is fine with everything kept in control, with or without load, and while the bike prefers swinging through corners to flicking, it's communicative enough to be satisfying and inspire confidence - fun, they call it, and they're right.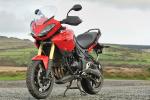 The ABS (also stock on the SE) can be over-eager, as a lot of older systems are, but I'd still rather have it than not. If only something as simple as adjusting the headlights could be... simple. The loads a bike like this will be asked to deal with vary a lot: luggage, passenger, both together. Each pitches the Triumph Tiger 1050 at a different angle, more so than most because of the long travel suspenbsion, and the headlight pitches with it. Yet this seems to have been designed as if it's something that's set once at the factory and forgotten, meaning it's constantly too high and infuriating other drivers or too low and obstructing decent night time progress.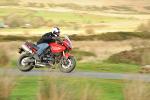 Even angled correctly the lights aren't good, throwing spurious and distracting patterns to the sides of your vision with little penetration into the darkness. You can alter the angle, but not with anything in the toolkit, while the owner's manual gives you the wrong direction for turning the adjuster bolt, once you've finally found it with a socket and extension hidden below the dash somewhere. Oh for a simple adjusting thumbwheel where that bolt is buried, surely it's not so difficult?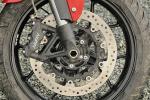 There's little else to irritate. The panniers (stock on the SE model) are fiddly until you get used to them but completely waterproof (and boy did the heavens have a go at breaking an entry on one trip...) and capacious too, while the new dash borrowed from the Triumph Tiger 800 is clear and easy to use. It would be better for displaying total mileage while you're riding though, so you can enjoy passing those 5,000 mile, 10,000 mile, er, milestones rather than seeing you've already done them when the bike's parked up again. Most bikes in the class show ambient temperature too.
Specifications
Model tested: 2012 Triumph Tiger 1050 SE
UK price: £9,999 (base model: £9,099)
Available now
Engine: three cylinder, liquid cooled, dohc 12v, 124.8cc
Power: 113bhp (115PS, 84kW) @ 9,400rpm
Torque: 72lb.ft (9.9kgm, 98Nm) @ 6,250rpm
Economy: 43mpg (15.2km/l, 6.6l/100km, 36mpg US)
Tank/Range: 4.4 gallons (20 litres, 5.3 US gallons) / 190 miles (300km)
Transmission: Six gears, wet multi-plate clutch, chain final drive
Chassis: tubular steel twin spar
Seat height: 32.3in (820mm)
Wheelbase: 59.4in (1510mm)
Rake/trail: 23.2 ° / 3.45 in (87.7mm)
Weight: 539lb (245kg) wet