Triumph Rocket 3 Roadster
By Kevin Ash - 24/01/2010
The world's biggest production motorcycle, Triumph's Rocket 3, has sold reasonably well for an expensive machine but it's not been the roaring success Triumph was hoping for.
In the States especially the thinking was that Americans like their bikes and cars to have big engines, and as this was the biggest at 2.3 litres, they'd like it more than anything else. Which just shows the danger of using stereotyping instead of proper marketing.
Certainly the US market is the biggest for cruisers, and certainly these generally have big engines, but most riders want an engine to be big enough rather than as big as possible, and they like it to be a narrow angle, air-cooled V-twin rather than weird inline triple like the British bike. And most riders too want a badge that says 'Harley-Davidson'.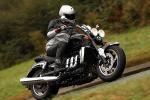 Not much Triumph can do about the last point, but since the arrival five years ago of Tue Mantoni as company CEO (interview coming here soon), what they did do was study the markets rather more carefully. A better understanding of the US spawned the 1700cc parallel twin Thunderbird as a more mainstream attempt at breaking into the cruiser sector, and also led to a repositioning of the Rocket 3.
That repositioning doesn't merely mean a new advertising campaign, it's meant stopping production of the original Rocket 3 (though there are stocks enough to see Triumph into mid 2010), keeping only the Rocket 3 Touring and introducing this, the new Rocket 3 Roadster. There's a fair amount that's new compared with the old Rocket 3, possibly the most important being a change in the riding position. The seat shifts the rider forwards by 0.55in (14mm) and up by 0.4in (10mm) while the footrests are 4.8in (123mm) back and almost an inch (22mm) lower. This is a much more aggressive, sporty set-up than the laid back original, at least by cruiser standards, and it's backed up by a 9bhp power increase to 146bhp (148PS, 109kW) and 14 per cent torque hike to 163lb.ft (22.5kgm, 221Nm). Like the Rocket 3 needed more torque...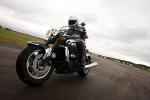 Other changes include a switch to twin silencers (it's this which is responsible for the power gain, the engine is otherwise the same as before apart from a remap of the engine management to account for the improved exhaust flow), new rear suspension units with softer springs and better damping, ABS brakes as standard, additional info from the clocks such as range to empty and a revised gearchange mechanism for smoother shifting.
That's all, aside from the gloss or matt black colour schemes and some small detailing, but what it does is pitch the bike into a different sector altogether, against machines like the V-Max and Harley V-Rod.
[img_assist|nid=2666|title=|desc=|link=node|align=left|width=150|height=]It has the performance to hold its head very high in its new home... The original Rocket 3 was marketed as out-accelerating a Yamaha R1 to 100mph (160kph) and with its extra power and torque the new Roadster was hardly going to be sluggish off the line either. You don't even need to rev it hard for a spectacular take-off as it makes more torque just off idle than a Suzuki Hayabusa's maximum and goes on to peak at a subterranean 2,750rpm.
Okay, the bike weighs a hefty 807lb (367kg) fuelled up and ready for anything, but dumping the clutch still gives you hammer blow acceleration.
The accompanying soundtrack is deeper and raspier than before too, adding to the sensations, though now the bike is electronically restricted to 120mph (192kph) so if there's anywhere you could exceed that, you won't on this bike. You get there pretty damn quick though...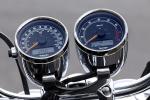 For all its intimidating size and performance this is a perfectly usable and friendly every day bike, as you'd expect from Triumph. The motor is silky smooth and the riding position is very natural and easy with a generous seat, so comfort is fine even after a long stretch on board. The fuel capacity is 5.3 gallons (24 litres, 6.0 gallons US) but 2.3 litres makes for a thirsty motorcycle and you'll be lucky to put more than 150 miles (240km) behind you without the tank running dry, not really enough for regular touring but otherwise okay. The aerodynamics don't help economy, and of course they expose the rider to plenty of windblast too, though the accessory flyscreens do make a useful difference (see these in some of the pics).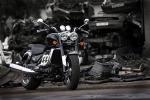 That softer suspension helps a lot on poor surfaces, keeping the tyre in contact with the road where the old version's would be bouncing about and upsetting the ride quality for the rider, and there's lots of confidence to be had on this type of machine from including ABS - the brakes are plenty powerful enough and now it's easier to use them to the full.
The bike's balance isn't bad but that enormous 240mm section rear tyre does affect the steering, at lower speeds especially, when the bike can feel a little vague and want to drop into turns to some degree. It's not a serious issue but could be better, although that would mean a more sensible rear tyre, and this bike doesn't do sensible. A fair trade then.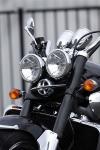 In fact precision steering and flickability (which it doesn't have...) don't really matter. This is a street rod rather than the street fighter Triumph is calling it, made to have attitude, intimidate others rather than the rider, look mean and huge and thunder away from traffic lights in the total confidence of knowing practically nothing will better it.
It does all of this, sounds magnificent, goes like stink and feels refined and beautifully made too. It's hardly a bike for everyman (or the 350 women who've bought some of the 18,000 Rocket 3s sold to date), but for the man it's for, there's nothing better.
It gladdens the heart that bikes like this exist.
Price: £10,949
Available: January 2010
Contact: Triumph Motorcycles Ltd, 01455 251700, www.triumph.co.uk
Donate to the Kevin Ash Fund
Kevin's funeral was held on Thursday 28th February 2013 and was well attended by family, friends and colleagues.
The Telegraph has very kindly established The Telegraph Kevin Ash Fund to assist with the education of Kevin's three daughters.
If you'd like to make a donation then you can use the PayPal 'Donate' button below which will allow you to donate from your PayPal account, or via credit or debit card. A small percentage (about 3.4%) will be retained by PayPal for the service.
Kevin's family have been touched by the generosity and messages of support from people using the website and would like to express their gratitude to those who have contributed in any way.
The donations keep coming in, thank you so much, and the family especially like it when you leave a message.