Sym Wolf SB125Ni review
By Kevin Ash - 16/12/2012
The difference between Chinese and Taiwanese-built motorcycles amounts to a great deal more than the politics of the two countries.
Where as a rule I recommend avoiding anything Chinese as poorly built, unreliable and with depreciation so serious it often negates any perceived saving anyway, so the two main Taiwanese manufacturers, Sym and Kymco, are well worth considering.
Sym has been making motorcycles for half a century, originally in conjunction with Honda, now to its own designs, and it's churning out around 600,000 machines a year. Most are small scooters, but there are motorcycles too, including the new Wolf SB125Ni, keenly priced according to Sym's policy at £2,999.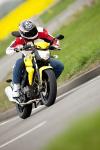 It's less expensive than Japanese and European rivals, but not by a huge margin: the newly refreshed Honda CBR125R for example is £3,270, although KTM's fabulous Duke 125 is a bigger jump at £3,695. Honda's excellent CBF125, while a little less sporty than the Sym, is just £2,420.
The Sym Wolf 125 then needs to be good as it doesn't sell on price alone, and in some respects it is. It's powered by an older style, air-cooled engine with two-valves, which means it has a reasonable amount of torque at low rpm and it doesn't bog down when pulling away from stationary quite as readily as the KTM, but after that it's less willing to rev and feels flat as it gets near its 65mph (105kph) top speed.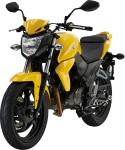 It does start to vibrate when you're working it hard too, enough on a longer trip to cause some finger numbness, but mostly it's not a nuisance, it's the lack of zest that's likely to trouble you more. The fuelling is good though, thanks to the new fuel injection system, and economy is reasonable too, at 80mpg even ridden flat out down a motorway. The CBF125 does a lot better though, capable of achieving 110mpg (38.9km/l, 2.57l/100km, 91.5mpg US) without too much rider restraint.
The suspension quality isn't great, but nor is it on many rivals, although again there are a few which are notably better, inevitably including the KTM, but the CBR125R is too. Nor are the brakes inspiring, offering a wooden feel, although they do have sufficient power.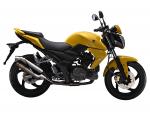 The Sym Wolf has a heavy feel too for a 125, which comes as no great surprise when you discover that it is heavy, at 342lb (155kg). This will be putting something of a dampener on the engine performance of course but it also make the Wolf less agile than you might expect. It handles fine, holding its line okay and going where you point it, but it doesn't change line with quite the electric speed of some of the lighter sports 125s.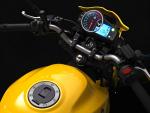 It does though come with a more comprehensive dash than most, the LCD display reading out fuel level and time as well as the usual basics. But it's when the fuel gets low that you discover a real irritation: when you come to fill it up, the design of the tank inlet means it's impossible to do more than trickle the fuel in without triggering the filler pump cut-off. Dribbling in the petrol like this once took me almost five minutes rather than the few seconds it ought to, to the constant sound of the cut-off clicking. Baffling and completely unnecessary.
The Sym Wolf 125 does look and behave like a real motorcycle and it's a good size too so it doesn't look silly with a taller rider on board. The seat height isn't too imposing for shorter ones either. If you're particularly taken with the looks - which aren't at all bad - the price is just what you were hoping to pay for a 125 and you're after a sporting but unfaired machine, then the Wolf won't be a bad buy.
But you can get a CBF125 for a lot less, or a CBR125R for only a little more, and the availability of either option undermines reasons to go for the Sym, especially as you're buying the quality and dependability that comes with the Honda badge. Having said that, Sym has the confidence to offer a three year warranty, more than any other 125 manufacturer. Meanwhile, if you can stretch to a KTM Duke, you'll be spending more but getting a far more satisfying bike to ride.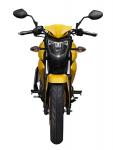 Specifications
Model tested: Sym Wolf SB125Ni
Price: £2,999, available now
Engine: single cylinder, air-cooled, ohv 2v, 124.5cc
Power: 11bhp @ 9,000rpm
Torque: 6.6lb.ft @ 7,500rpm
Economy: 80mpg (28.3km/l, 3.53l/100km, 66.6mpg US)
Tank/Range: 2.9 gallons (13 litres)/ 230 miles (370km)
Transmission: Five gears, chain final drive
Chassis: Steel spine
Seat height: n/a
Wheelbase: 52.0in (1320mm)
Rake/trail: n/a
Weight: 342lb (155kg) (dry)