Suzuki Inazuma
By Kevin Ash - 25/09/2012
Suzuki says the forthcoming Inazuma 250 will cost £3,499 and appear in showrooms in September this year.
The oddly styled machine is aimed at the fast growing budget commuter market, whichis driving a revival in the quarter litre class.
The look is inspired by the big capacity B-King, notable for integrating the front indicators into an extension of the fuel tank, although on the Inazuma this gives the bike a drooping look not helped by the brooding headlight shroud. But it does grow on you...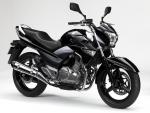 The bike does promise good economy though from its new design 248cc, twin-cylinder, liquid-cooled engine. Suzuki claims just under 86mpg on the World Motorcycle Test Cycle and says this is 6mpg better than the class leader, presumably meaning the Honda CBR250R.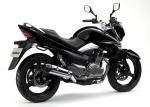 The slightly undersquare motor is fed by fuel injection and has a single overhead camshaft, a 180-degree crankshaft and gear-driven counterbalance shaft, and drives the rear wheel through a six-speed gearbox.
The price looks very attractive with the CBR costing £3,950, although there's no ABS option, which you can have on the Honda for an additional £150. Kawasaki's Ninja 250 meanwhile is now looking pricey at £4,649, even though this does have a full fairing. Dealim's VJR250 undercuts the Suzuki at £2,999, but the less familiar name and Korean origin work against it.
Donate to the Kevin Ash Fund
Kevin's funeral was held on Thursday 28th February 2013 and was well attended by family, friends and colleagues.
The Telegraph has very kindly established The Telegraph Kevin Ash Fund to assist with the education of Kevin's three daughters.
If you'd like to make a donation then you can use the PayPal 'Donate' button below which will allow you to donate from your PayPal account, or via credit or debit card. A small percentage (about 3.4%) will be retained by PayPal for the service.
Kevin's family have been touched by the generosity and messages of support from people using the website and would like to express their gratitude to those who have contributed in any way.
The donations keep coming in, thank you so much, and the family especially like it when you leave a message.