Suzuki GSX1250FA test
By Kevin Ash - 21/02/2011
Suzuki tried to avoid mentioning the word 'Bandit' when the GSX650F was introduced. They tried again with the new GSX1250FA, but it hasn't worked, has it?
Well, I think they're being oversensitive, the Bandit - 650 or 1250 - is a well respected bike, and if the FA amounts to little more than a Bandit 1250 with a fairing, so what, that's a design philosophy that's meant you can pick up a new one for around £7,000. With so much fuss surrounding the high fashion, high tech sports tourers defined by the VFR1200 and Multistrada, that's a hell of a saving over the £12,000 you need to pick up just a base model of one of those.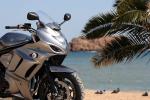 There really is very little difference between this and the Bandit 1250SA. The fairing and its GSX-R-style headlight are the obvious additions, and you also get new clocks, far better than the cobbled together Bandit ones, where the circular mechanical speedo housing awkwardly contains a rectangular LCD readout. The FA dash includes a gear position indicator and gear shift light, while the forks feature heavier springs and firmer rebound damping to compensate for the fairing's extra weight, and to help with the cooling (the bodywork keeps the engine warmer) there's an additional radiator fan that cuts in if the first doesn't do its job. The silencer and cap is new too, but that's the level we're at.
Standard equipment meanwhile includes a centrestand, ABS and a height-adjustable seat, with the options list including panniers, topbox and tankbag, as well as a other bits and bobs like rear hugger, additional screen blade and larger screen, and even a decal kit, which seems to be some kind of admission that the plain blue, silver or black colours are rather dull. Which they are.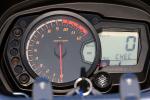 As you'd expect of a gently modified Bandit, it all works pretty well. The bike is touted as a sports tourer, so it needs to be sporty and to tour, which might sound obvious but those points do seem to evade designers sometimes. As a sports bike the FA is hardly a GSX-R, weighing in at 257kg (567lb) with a full tank of fuel. Not VFR heavy then but in the same ballpark as the K1300S, which makes 70 per cent more power than the GSX's modest 97bhp. In that light it looks hefty, but look at the torque: 81lb.ft (11.2kgm, 110Nm) at a subterranean 3,700rpm. That's GSX-R1000 torque at a third of the revs, or more relevantly, more grunt than BMW or VFR at that level.
This is great compensation for the mass and even works well when you're getting sporty, as long as you're not looking for a big horsepower hit. The motor tries its best at big throttle and rev settings but doesn't get close to the ultimate thrust of its costlier rivals. The question you need to ask is, how much does that matter? Some riders will miss it of course, but others very rarely tap deep into their bikes' power reserves, spending most of the time instead at lower revs and out of the engine's sweet spot. In their cases, the GSX will feel faster, not slower, as it surges forward impressively in high gears on twisty roads and makes light of lazy overtakes. It doesn't make much horsepower but what it does produce is exactly where most riders will want and use it.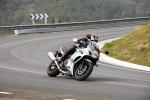 That can be useful for sportier stuff but it really matters when touring. In this case the GSX feels faster than the far more powerful Kawasaki 1400GTR, which is frankly breathless at low revs. Two up and loaded the Suzuki isn't strained at everyday revs and speeds, and instead feels muscular and relaxed. The fuelling is also flawless, with a lovely liquid response and very little vibration, adding the sensation of effortlessness.
Instead the issue which is far too common on modern motorcycles comes into play: fuel range. There's a twist here though, which works in the GSX's favour, and that's aside from the price difference with the VFR, which has sparked such controversy about its own meagre range. I'm basing my figures on the Bandit 1250GT, which is very similar to the FA and which I've been running for the last three months (albeit snowy ones...). In typical fairly rapid riding, the 'E' symbol on the fuel gauge starts flashing at just 115 miles, which would normally be wholly unacceptable. But Suzuki, in its (lack of) wisdom, has used a two stage low fuel warning. The E flashes when there's 5.5 litres left, then the final LCD block also flashes when there's 1 litre left.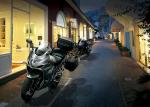 In practice, at the 42mpg (14.9km/l, 6.7l/100km, 35mpg US) I tend to get, there's 50 miles (80km) to go, a VFR-matching 165 miles to dry. But bear in mind the Bandit GT does this with those fat panniers and top box dragging it down (I cruise at an indicated 90-92mph (145kph) on motorways) - without those we're up to 45mpg and a 190 mile range, which on a level playing field makes the cheap-as-chips Suzuki superior. Better of course would be a 200 mile range with panniers and box, but while it's hardly great, there seems to be less ground for complaint.
What's bothersome is that silly low fuel warning system. For me at least, and others I've asked are the same, once something on the dash starts winking at you about your fuel level, the urge to refill at the next opportunity is too great to ignore, so the real range is not really utilised. If you waited until the very low warning, you might only have 10 miles (16km) left, which just isn't enough. It's best to ignore the dash altogether and judge by the trip instead, but however you do it, it's not ideal.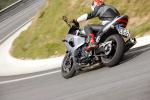 Comfort isn't quite to VFR standards either, though it's really not so far off. I've ridden a couple of 500 mile (800km) days on the 1250GT and while I've noticed the seat, it's been bearable and not intrusive. You can adjust its height too, although the fairing's wind protection isn't especially impressive. There's no turbulence to speak of, which is the main thing, and the optional screen-top blade attachment takes quite a bit more out of the pressure. You can also go for a larger screen option, so there's compensation for a still-reasonable price.
The fairing itself is wider than the GSX650F's, but sadly the mirrors are still set too narrow and at least 50 per cent is taken up by arm and wet weather jacket. The pillion meanwhile is well shielded by the rider rather than being perched up too high, and they feel secure too, which is important as the bike really does grunt away forcefully at low speeds. But the footrests are rather high (as you can see in the pics) so longer legged passengers will feel cramped after a while.
What does impress is the suspension. There's nothing obviously special in terms of specification but the ride quality is exceptionally good, quite probably compensating for the average seat with the plush ride it gives. If you want to increase the rear preload there's no Multistrada-type button pressing of course, instead you must break out the toolkit and struggle to find space to lever round the preload collar. But at least it's easy to adjust the headlight height if you load up the bike, which is better than the majority of motorcycles. You can't quite do it from the saddle, but no tools are needed, just reach beneath the fairing and turn a big plastic wheel - why don't more manufacturers have something like this?
The bike is competent then, steering pretty well ( just a hint of tuck-in on the BT-021 Bridgestones), changing direction with reasonable agility, and punching a lot harder than its horsepower suggests. But does it excite? Not really, but it does still win you over with its honesty and the way it what it's got is all you need. The styling is plain and rather dated, but it's not unattractive for that, the engine is good where it needs to be, smooth and responsive even, and the price keeps making you wonder why you'd pay £5,000 more for another sports tourer, rather than making you feel like you're £5,000 worse off.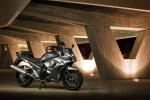 It's only when you think in a different direction that it's not quite so clear cut. The Bandit GT for example might have crankier clocks and slightly vaguer front suspension, but it's £150 less yet comes with that £650 of luggage as standard. Suzuki GB says GT stocks are 'running out', though it'd be easy enough to create more as it's only a Bandit with accessory parts added, and they're still available. In truth they just have something of a marketing dilemma to get out of the way. There are some GTs still at dealers too, so the real bargain is not so much the FA, but the GT.
Then there's that other sports tourer, the Triumph Sprint ST. The engine has much more character than the GSX's, as well as 25 more horsepower, although it lacks the Suzuki's huge torque. But even that is still more than £2,000 extra... The FA does have less than its rivals, but only in places where you don't really need more, and if the GT is the biggest bargain, the FA is still extraordinary value in these times of rapidly rising prices. Even the finish quality appears much better than it used to be on budget Suzukis - my GT has dealt with the winter road salt (and there's been lots) pretty impressively.
As a sports tourer buyer, with the Bandit GTs gone my money would go on the GSX1250FA. I'd pine after a Multistrada now and then, but cure that by looking at the £7,120 price tag. And I'd not be fussed about any of the others.