Suzuki GSX1250FA news
By Kevin Ash - 23/03/2010
The GSX1250FA is a fully faired sports tourer based on the budget-priced Bandit 1250. It uses the same 1255cc, four-cylinder liquid-cooled engine, notable for its smoothness and strong low rev torque, mounted in a simple tubular steel frame. Suspension is by 43mm non-adjustable forks and a rising rate monoshock rear with adjustable spring preload only.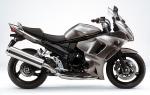 It's not completely barren of extras, the bike comes with ABS as standard, seat height adjustment, gear position indicator and a gear change warning that lights as the revs near the red line.
No price has yet been announced for the GSX1250FA, but with the 1250SA, 1250GT and 1250SAZ costing from £6,349 to £6,849, the FA is likely to be around £6,700, making it something of a bargain while prices are rising so rapidly.
Donate to the Kevin Ash Fund
Kevin's funeral was held on Thursday 28th February 2013 and was well attended by family, friends and colleagues.
The Telegraph has very kindly established The Telegraph Kevin Ash Fund to assist with the education of Kevin's three daughters.
If you'd like to make a donation then you can use the PayPal 'Donate' button below which will allow you to donate from your PayPal account, or via credit or debit card. A small percentage (about 3.4%) will be retained by PayPal for the service.
Kevin's family have been touched by the generosity and messages of support from people using the website and would like to express their gratitude to those who have contributed in any way.
The donations keep coming in, thank you so much, and the family especially like it when you leave a message.