Suzuki GSX-R750 special edition
By Kevin Ash - 30/10/2010
Suzuki GB has produced a limited edition GSX-R750 featuring a paint scheme inspired by the 1996 SRAD version.
The modern machine will go on sale in early 2010 to mark the 25th anniversary of the first GSX-R, and also features an individually numbered top fork yoke and Yoshimura exhaust.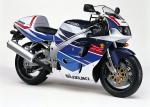 No price has been announced, but expect a premium of around £700 over the stock GSX-R, currently listed at £8,700. Just 25 examples of the special edition will be produced, with availability only online.
Pricing and purchasing information are on the 25 year GSX-R website, www.imgsx-r.com
Donate to the Kevin Ash Fund
Kevin's funeral was held on Thursday 28th February 2013 and was well attended by family, friends and colleagues.
The Telegraph has very kindly established The Telegraph Kevin Ash Fund to assist with the education of Kevin's three daughters.
If you'd like to make a donation then you can use the PayPal 'Donate' button below which will allow you to donate from your PayPal account, or via credit or debit card. A small percentage (about 3.4%) will be retained by PayPal for the service.
Kevin's family have been touched by the generosity and messages of support from people using the website and would like to express their gratitude to those who have contributed in any way.
The donations keep coming in, thank you so much, and the family especially like it when you leave a message.