Suzuki GSR750 review
By Kevin Ash - 01/11/2011
Streetfighter builders have been doing it for years, now at last Suzuki has had a go itself: creating a naked bike out of the GSX-R750.
The new Suzuki GSR750 has plenty of the right ingredients for a wild beast of a bike. As well as that iconic power unit, its weight has been kept down to 210kg, and if that doesn't impress you too much, this is with a full tank of fuel, all fluids in place and ready to go. It's not a featherweight, but considering the steel frame and relatively low price, that bodes well for wheelies and handling.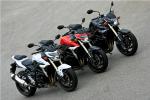 What Suzuki's done to the engine makes plenty of sense too. The big blast of high rev power that makes the GSX-R such a missile has been tamed as it'd be pretty useless in a naked bike, with the engine's dynamics rebalanced to favour low and mid-range torque instead. In practice this has meant smaller valves to match the narrower inlet tracts, different cam timing with a little less lift, lower compression ratio, revised exhaust and intake systems generally... this is all compared with the 2005 GSX-R750 K5, where the engine has come from, rather than the latest L1 version.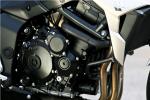 But as the GSR750 is replacing the poor-selling GSR600 in Suzuki's range, some comparisons with that are valid too, in particular the changes to the fuel injection system. The GSR600 was blighted by an obtrusive stutter when you opened the throttle from fully closed, which Suzuki has effectively recognised by its emphasis on changes to the GSR750. The 600's injectors were angled at 60 degrees to the inlet tract, and Suzuki discovered that on wide throttle openings, some of the fuel was hitting the edge of the butterfly and collecting there rather than being dispersed into the air flow. This upset the fuelling and caused the stutter, so on the 750 the injectors are angled at 30 degrees, pointing much more into the throat of the inlet, towards the inlet valve, and the problem is avoided.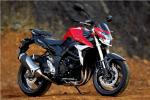 The frame mimics sports bike design with its twin spar layout, but money is saved by the use of steel rather than aluminium, and the rest of the chassis is unremarkable in its convention. The suspension gets spring preload adjustment only, so if the damping doesn't suit, tough... The styling suggests, like the spec, that this is going to be something of an aggressive wheelie monster, with angular bodywork drawing the eye forward to the front wheel, a minimalist tail unit and stubby underbelly exhaust.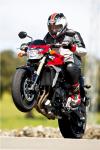 The GSR750 isn't like that though. In fact pulling wheelies on it takes a bit of effort, you have to get aggressive with the throttle and clutch it up, and even then there's a certain reluctance. This isn't what the bike wants to do, nor is it keen on snapping sharply from left to right and flicking down a sinuous back road. It prefers to be swung through corners, its geometry emphasis on stability and safety rather than agility and steering aggression.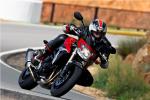 The motor is in the same vein, though sadly this means the gains in lower rev torque aren't enough to justify all the horsepower of the original GSX-R750 K5 that's been lost - more than 40bhp sacrificed for what feels like not much additional thrust. It's not a bad engine, the fuelling changes have done the trick and that side of things is now perfect: no stutters, no delays, you twist the grip and the GSR750 goes. But it goes in a nice rather than nasty way, where nasty would imbue it with some much needed character. This is generic motorcycling, and luckily for the GSR750 motorcycling is enough fun for that not to matter too much to less experienced riders.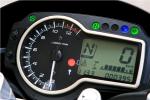 But others will find the experience bland and wonder where the GSX-R ferocity and spirit have gone. Even the sound of the GSR750 is ordinary, just a four-cylinder whoosh with none of the snarls and changes of timbre that we're getting more and more from aurally aware engineers these days. There's also a high frequency tingling through the bars, pegs and sometimes seat and tank which can annoy, mostly appearing in the upper half of the rev range.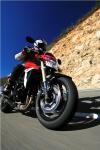 It's often hard to judge the fuel consumption on a press launch but Suzuki says it's 10 per cent better even than the GSR600, and sure enough the on-board economy read-out was suggesting up to 50mpg (Imp) in normal riding, and only dropping to just above 40mpg when the bike was being given a right old thrashing. Even if it's the usual 8 per cent optimistic, that's still not too bad, and it means the 3.9 gallon (17.5 litre, 4.6 gallon US) tank will be good for up to 200 miles (320km), although 180 or so (290km) will be more common.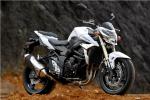 But here we are talking about fuel economy and range on a streetfighter, or what looks like a streetfighter. It isn't really though, this is an inoffensive bike that could even do as a first big bike, although many will regard it more as a gentle second step into motorcycling as it is still pretty quick. Its benign friendliness is tainted slightly by one thing though, which is a bit of a tendency to stand up mid-corner when you touch the front brake, as happens when you go in a bit too hot or something unexpected demands a change in line.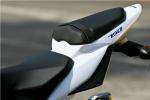 The pillion accommodation is best suited to small passengers and small journeys too, as there's not much space or anything to hold onto. Carry luggage on the back instead, and you'll find a couple of material loops which you can pull out from under the pillion seat to hook your bungees to.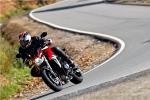 It's not a bad bike then, but unless the style really grabs you, it's hard to come up with any particular reason to buy it. It's lighter than Kawasaki's Z750, cheaper than some rivals, but when you have some richly characterful rivals from Triumph, Ducati, KTM and others to choose from, reasons to single out the Suzuki are hard to find.
Specifications
Model tested: Suzuki GSR750
Price: £7,124 on the road (ABS version not available in the UK)
Available: now
Engine: inline four-cylinder, liquid cooled, dohc 16v, 749cc
Power: 105bhp (106PS, 78kW) @ 10,000rpm
Torque: 59lb.ft (8.1kgm, 64Nm) @ 9,000rpm
Economy: 46mpg (est)
Tank/Range: 3.9 gallons (17.5 litres, 4.6 US gallons)/ 180 miles
Transmission: Six gears, wet clutch, chain final drive
Chassis: Steel twin spar
Seat height: 32.1in (815mm)
Wheelbase: 57.1in (1450mm)
Rake/trail: 25 °20'/ 4.1in (104mm)
Weight: 463lb (210kg) (kerb, full tank)