Royal Enfield Fury
By Kevin Ash - 15/01/2012
Royal Enfield is releasing a new 2011 model called the Fury at the NEC show. The bike is based on the fuel-injected Electra with a flat-track-inspired cosmetic makeover, although it's Enfield's first model for 40 years with a racy twin exhaust.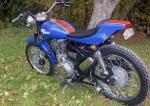 As well as the circus colour schemes, the Fury is fitted with high and wide handlebars and a flat-track type fibre glass seat unit. The traditional Enfield Nacelle is gone, and in its place is a chrome headlight and digital instrument panel. The bike also gets mini chrome indicators.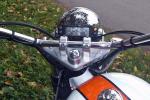 The 28bhp, 499cc single-cylinder engine is untouched, although the twin silencers are claimed to allow more free breathing and might even release another horsepower. So be careful.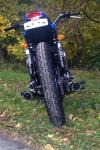 Enfield's UK sales director Ben Matthews says the aim is to appeal to a younger and more image-conscious audience than the traditional customers.
Prices to be announced at the NEC show.
Contact 01386 700907, www.royal-enfield.com
Donate to the Kevin Ash Fund
Kevin's funeral was held on Thursday 28th February 2013 and was well attended by family, friends and colleagues.
The Telegraph has very kindly established The Telegraph Kevin Ash Fund to assist with the education of Kevin's three daughters.
If you'd like to make a donation then you can use the PayPal 'Donate' button below which will allow you to donate from your PayPal account, or via credit or debit card. A small percentage (about 3.4%) will be retained by PayPal for the service.
Kevin's family have been touched by the generosity and messages of support from people using the website and would like to express their gratitude to those who have contributed in any way.
The donations keep coming in, thank you so much, and the family especially like it when you leave a message.