Rossi to Yamaha in 2013
By Kevin Ash - 25/09/2012
Former grand prix rider Niall Mackenzie has given a powerful hint that Valentino Rossi is indeed returning to Yamaha!
In a tweet on August 3, Mackenzie said: "Done deal! A well known Italian will definitely be on a blue bike next year, woo hoo!" There are some interesting developments with tis story too - see the comments at the end of this news item.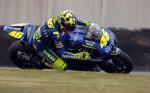 Meanwhile, the Italian mainstream press has started reporting it as a done deal, suggesting it's only a matter of time before an official announcement is made.
If this really is the case, and short of it being official it's looking very likely indeed, then it means an end to the Italian dream combination of Ducati and Rossi, and that Rossi has given up on his mission to create a championship-winning bike with the Italian factory. But the pressure will be in him once again, with nowhere to hide and no excuses as he battles teammate Jorge Lorenzo on an identical bike, even if he'll be relegated to Yamaha's number two rider.
As so often happens, MotoGP is more interesting off the track than on it!
Donate to the Kevin Ash Fund
Kevin's funeral was held on Thursday 28th February 2013 and was well attended by family, friends and colleagues.
The Telegraph has very kindly established The Telegraph Kevin Ash Fund to assist with the education of Kevin's three daughters.
If you'd like to make a donation then you can use the PayPal 'Donate' button below which will allow you to donate from your PayPal account, or via credit or debit card. A small percentage (about 3.4%) will be retained by PayPal for the service.
Kevin's family have been touched by the generosity and messages of support from people using the website and would like to express their gratitude to those who have contributed in any way.
The donations keep coming in, thank you so much, and the family especially like it when you leave a message.