Race Of The Century
By Kevin Ash - 12/03/2011
70,000 volatile Italians were packed into the Autodromo Dino Ferrari at Imola on April 23, 1972. They were there for the inaugural Imola 200, Europe's Daytona for the Formula 750 class, a category nequivalent to modern World Superbikes
, where the race bikes are based on road-going production machines, although the rules were more loose then, even allowing special one-off frames to be used.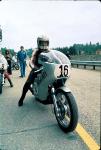 The event had caught the imagination of the manufacturers as much as the crowd, with eleven different factories fielding or supporting entries ridden by some of the world's best riders: MV Agusta, Honda, Triumph, Norton, BSA and Moto Guzzi were all running full factory machines, while Kawasaki, BMW, Suzuki and Laverda each had factory supported entries, with names such as Phil Read, John Cooper, Percy Tait, Walter Villa and of course Giacomo Agostini on board.
Oh yes, and the little Italian Ducati factory was represented too, although it wasn't that well known and the rider, Englishman Paul Smart, although he was good wasn't spoken of in the same breath as Read and Agostini. Anyway, insiders knew that because Ducati didn't have a large budget its bikes were running road bike frames - you could even see the centre stand lugs behind the engines - and the 750cc V-twins were using standard 750GT bottom ends with quite mildly tuned top ends. And this was Ducati's first ever race in a big bike class...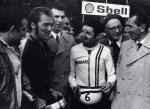 The bikes even had 750GT engine numbers, confirming the base motors had been taken off the production lines. But although the standard 36mm and 40mm exhaust and inlet valves were fitted, the engines used the desmodromic valve operation previously only used on the singles and grand prix twins. This allowed higher revs at a time when valve gear was often the limiting factor - the Ducati spun up to 9200rpm - but the ability to accelerate the valves very rapidly also resulted in a big boost to mid-range power, which was how designer Fabio Taglioni hoped to have the measure of his exalted opposition. The engine made peak power of 84bhp at 8800rpm, but was still churning out 70bhp at 7000rpm, a huge spread of power for a race engine in those days. The cam profiles were used regularly for many years after, and became known as Imola cams. In this picture incidentally are Smart and Spaggiari holding helmets, and on the far right, the great designer Fabio Taglioni.
Other changes to the road bike included the fitment of new 40mm Dell'Orto concentric carburettors, an oil cooler and a second spark plug in each cylinder for faster combustion. The alternator was removed, replaced by a total loss battery system with coil and points ignition. The conrods were machined from billet and weighed around 60g less than the stock ones, and the primary drive used straight cut gears for improved efficiency in place of the helical ones on the road bike, but the gearbox was untouched. The distinctive exhaust layout featured a high rise pipe on the left but a low one on the right of the bike - Imola comprises mostly left hand corners.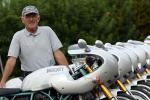 Agostini meanwhile was using a four-cylinder MV Agusta with the engine breathed on by the most successful grand prix race marque to date, and the frame was taken directly from the company's 500 grand prix race bikes, as were the brakes and forks. This is a bit like slotting Ben Spies's WSB Yamaha R1 engine into Valentino Rossi's MotoGP M1 chassis. Then getting Rossi to ride it...
The racing cognoscenti knew Ducati as technically clever and successful in the smaller classes but its production bikes were only built in small numbers and the Bologna factory certainly wasn't thought of as a real contender. Remember Pete Goddard entering World Superbikes on the Benelli Tornado Tre in 2001? No way was he going to make even a top ten finish against the established stars Bayliss, Edwards, Corser, Chili and others on their factory Ducatis, Hondas and the rest... yet this was the situation Smart was in at Imola. The 750GT V-twin was the first ever big capacity machine made by Ducati and it had only been in production in small numbers for a year. And as that was simply based on a couple of single-cylinder top ends grafted onto the one crankcase it wasn't a serious big bike, was it?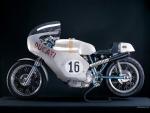 Imagine then the atmosphere, the sheer incredulity, as on the fourth lap Smart and his Ducati swept past Agostini, then leading on his MV, followed by second Ducati rider Bruno Spaggiari, before the two crossed the line 200 miles later, first and second!
This was the most significant race in Ducati's history, more so even than Mike Hailwood's TT victory in the Isle of Man six years later, which was more about the man than the machine. This was Ducati storming onto the world stage in the most dramatic fashion imaginable, humiliating the world's best first time out and proving its V-twins irrefutably in the process.
The race also convinced Ducati that it should concentrate on race classes which were related to production machines, after it had spent a few quite promising years building grand prix machines. It's a policy the company has stuck with consistently ever since with series such as World Superbikes, and it only moved into MotoGP because the four-stroke rules allow it to retain that road bike relevance.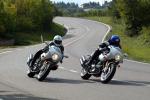 Yet the story becomes even more astonishing: a mere ten days before his historic victory which would assure Smart's fame as much as Ducati's, he had no inkling that he would have any involvement whatsoever with the race or the company! This picture is Smart on the modern Paul Smart Ducati, riding with me in Tuscany... What an awesome privilege!
Smart was racing in the U.S. at the time with the Hanson Kawasaki team, although things were not going well. "Money was so tight all the time, we weren't getting paid much and there wasn't enough to maintain the bikes properly. Those old air-cooled Kawasakis weren't reliable anyway, and the whole thing wasn't working out."
Ducati meanwhile was looking for a final rider for the four man team it was hoping to put together for the Imola 200, and it was beginning to struggle. "It was amazing that Ducati was even considering this race," says Smart. "I had the feeling that some bureaucrat in the government agency which ran Ducati, who didn't know a thing about motorcycles, came up with the idea. It's as if he thought, 'I know, we'll get lots of publicity if we win at Imola. I'll get the engineers to design a bike which will come first'! He didn't understand that you just couldn't do that..."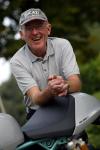 Ducati's race director Fredmano Spairani was at least given an appropriate budget and he'd tried to sign up the best possible riders, including the great Finn Jarno Saarinen, Barry Sheene and Renzo Pasolini. But Ducati in 1972 was not a name associated with big capacity race bikes, despite its successes in the smaller classes, and they all turned the ride down, assuming the small and inexperienced factory would stand no chance in its first ever F750 race, and they'd end up just looking rather stupid.
Spairani was becoming desperate as the race was getting close. He had managed to sign up three riders in Ermanno Giuliano and Englishman Alan Dunscombe as well as long-time Ducati racer Bruno Spaggiari, but his brief was to put together a four-man team, and of course, to win - these riders were good, but not quite at the highest level he was after.
One of the people he contacted was engine tuner Vic Camp, who immediately thought of Paul Smart, but they were unable to contact him - he was in the middle of nowhere in the U.S. at the time and simply couldn't be reached. So they spoke instead to Smart's wife Maggie (sister of Barry Sheene), who in light of the fact they were practically broke, did the deal on his behalf! Smart recalls his reaction: "I was furious!" he says, expecting a Ducati V-twin to be hopelessly off the pace. "I said, I'm not racing that bloody truck!" But he did...
An air of unreality descended as soon as he arrived at Milan airport. "I'd been travelling from Road Atlanta circuit in Georgia for a couple of days, and I'd barely slept, my face was covered in stubble and I must have been pretty smelly by then! But I was met by a huge chauffeur-driven limo complete with black curtains at the windows like some Mafia staff car and taken straight to the test circuit at Modena. We didn't even stop off at a hotel on the way!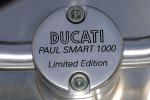 "There was only one week left to the race, I was exhausted, the bikes' frames weren't even painted, and they were fitted with Dunlop TT100 road tyres as the team didn't think race tyres would last the 200 miles of the Imola race. "But I was taken aback at Ducati's set-up - after the tight Hanson Kawasaki team it was quite a shock to have some 30 staff around and 10 bikes for us four riders - two each plus a couple of spares. They were naïve in some ways but very serious about it."
Smart had stopped worrying about things though. "I wondered what the hell was going on, but by this point I had reached that strange sort of high you get when you haven't slept for ages, everything becomes sort of detached, and it didn't seem to matter."
Smart had never been around the circuit before and worse, the bike felt just horrible to him. He came back in to the pit thinking he'd been "...dog slow!" but he was in for another surreal experience: "When I rode back in to the garage they were all jumping up and down with excitement. I didn't know what was going on, then they told me I'd been lapping faster than the record set by Agostini." And that had been achieved on a 500cc MV Agusta grand prix bike. With race tyres...!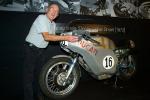 Things got better still as the Ducati team proved to work extremely well. Changes which Smart asked for were made overnight, exactly as he'd requested and he started to get on better with the bike. His mechanic spoke as much English as Smart did Italian, which was practically none, yet they soon established an effective understanding which came of their race experience. An outsized twistgrip was fitted to accommodate Smart's injured wrist, he finally persuaded the team to fit race tyres and just days later they were practising at Imola for the race. "We kept being quickest in practice," he recalls. "Sometimes Ago was quicker, sometimes it was us, but all the time we were right on the pace."
Spaggiari and Smart qualified in first and second places on the grid, but still he didn't feel under any great pressure. After all, he had nothing to lose in terms of reputation as the Ducatis weren't expected to get anywhere anyway. Yet they'd not just been lapping quicker than Agostini on the MV Agusta, they were also quicker than the fearsomely fast two-stroke H2R Kawasakis, the legendary factory CR750 Hondas, works Triumph triples, Suzuki two-stroke triples, plus Laverda and Moto Guzzi twins, ridden by the cream of the world's riders.
There had been a promise from Spairani that Smart could keep the bike if he won, but before the race it didn't hold a great deal of value for him. He and Spaggiari had also been told they would have to split the prize money equally if they came in first and second, but that seemed such a remote and ludicrous possibility it barely registered at the time.
The prospect of a good result receded further after the start of the race, when Smart had problems with first gear. "I could feel the gear dogs weren't engaging properly as it kept jumping in and out of gear. This was only a lap or two into the race, so I just did without it. Imola at the time had none of the chicanes it has now - most of the curves were long, fast and sweeping, so it didn't matter much. In fact I probably went quicker using second!"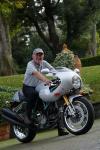 The Ducati was well suited to those Imola curves, almost suspiciously so, according to Smart. "I'm convinced the bike was designed solely to win that one race," he says." It was dreadfully slow turning but very, very stable, just what was needed at that circuit in those days."
Smart and Spaggiari had pulled out in front after only a handful of laps, a position they held for the best part of 200 miles, although the lead was swapping constantly between them. Right at the end of the race Spaggiari ran off the track - some observers agreed the bike was misfiring, which he claimed was because he was running out of fuel. Others though he was just trying too hard to cross the line first in front of his home crowd.
Certainly he wasn't happy at coming in second. "Bruno was obviously upset. He'd had this great racing career with Ducati and here he was at Imola in front of 70,000 Italians on the new bike ahead of these other great names, but with me ahead of him - of course he didn't like it."
Smart was never entirely sure what Spaggiari felt about him personally, but he has great respect for something which happened 26 years later: "We were both on stage at the first World Ducati Weekend in 1998. Bruno took hold of the microphone and announced we were the best of buddies and gave me a big hug, as if we were sort of making up. I was really pleased he did that."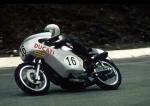 After that improbable, fabulous victory Smart was swept along in the most extravagant celebrations - he was even given the honorary freedom of Bologna and paraded around the city in an open-topped bus before adoring crowds. He reckons now there must have been some 25,000 people who came out to see the Ducati riders.
Ducati, typically, was very slow to cash in on the victory beyond the glory of it all, only producing Imola replicas some time later, and then in small numbers. Engineer Fabio Taglioni was always so consumed in racing, if he had a fault it was that the production bikes which paid for it all were to some extent neglected.
But a 750SS road bike and production race version did come out, spawning the gorgeous 900SS in 1976 which in various forms continued until the early 1980s, when Taglioni's new Pantah design with its belt driven cams superseded the shaft and bevel driven cams of the old motors.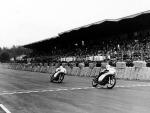 Smart meanwhile went on to run a successful motorcycle business which grew to three separate shops at one stage. He eventually sold this and the family caravan park business in Kent, qualified as an offshore sailing skipper, a long-time hobby of his, and became involved in son Scott's racing team, doing anything from management to swopping wheels or brake pads.
Ducati largely forgot Smart, until the late 1990s after the American takeover brought fresh emphasis on the company's heritage. A special limited edition Paul Smart version of the retro GT1000 series was introduced, and Smart himself was brought back to appear at many Ducati events.
As he says, he's dined out on that one race win ever since. And why not?