New Triumph Trophy
By Kevin Ash - 25/09/2012
Triumph has launched another attack deep into BMW territory with the unveiling of its new Trophy 1200, a blatant R1200RT rival.
The new touring bike, scheduled to appear in showrooms in October 2012, is powered by the same engine and transmission currently used in the Tiger Explorer. The 1215cc three-cylinder unit makes 132bhp (134PS, 98.6kW), at 9,000rpm and 88.5lb.ft (12.2kgm, 120Nm) of torque at 6,450rpm. The 3bhp reduction in power compared with the Tiger is due only to exhaust differences, the engine is otherwise identical, although sixth gear has been changed for a taller, overdrive ratio for more relaxed high speed cruising and to help economy and range.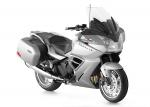 The engine produces more than 74lb.ft (10.2kgm, 100Nm) of torque from 2,500rpm up to 9,500rpm, and as with the Explorer the service intervals are a motorcycling best of 10,000 miles (16,000km) for minor attention including oil change, and 20,000 miles (32,000km) for major servicing.
Triumph is claiming class-leading handling and ride quality, and says it's been able to make the bike exceptionally agile thanks to the bike's floating pannier design, which reduces the effects of turbulence at speed on the bike's chassis, in turn allowing for sharper steering geometry.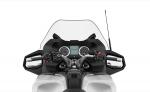 The downside is the weight, a hefty 662lb (301kg) wet, although it's not yet clear if this is with the big 5.7 gallon (26 litre, 6.9 gallon US) tank full. This is clearly going to slow down the handling and also dull the engine performance as well as economy and range. By comparison, the R1200RT is quoted at 571lb (259kg) fully fuelled. The Triumph does have a slightly lower seat though, at 31.5in (800mm) compared with 32.3-33.1in (820-840mm) for the BMW. Both bikes have low seat factory options.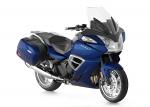 The higher spec Trophy SE model comes with Triumph's first electronically adjustable suspension system, developed in conjunction with KTM-owned Dutch company WP. As with BMW's ESA system, this alters damping and rear spring preload settings between Sport, Normal and comfort modes, as well as according to the bike's load. Unlike BMW's ESA II, the rear spring rate is not increased with load. The SE also has an integrated audio system with Bluetooth connectivity, iPod/MP3 compatibility and a USB link.
The instruments comprise analogue speed and rev displays with a dot matrix colour information panel which includes trip computer and audio system and other accessory information on the SE.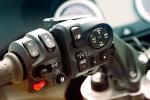 The headlights are electrically adjustable as is the screen, which also has a memory function so it returns to the previously set height when the ignition is switched on - it parks in the down position when the bike's switched off. Other standard features on both models include ABS, cruise control, traction control and two 12V power sockets. The SE gets three and tyre pressure monitoring.
The colours available are silver or blue. No pricing has been announced but it's Triumph's policy to undercut BMW pricing to similar specifications. An R1200RT with on board computer, traction control (ASC) and cruise control (stock on the base Trophy) costs £13,440, so expect pricing to start at around £12,500.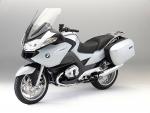 Comment: The bike looks promising as an RT rival, with superior power and torque at low rpm, the engine is smoother at low revs than the BMW twin too. The handling feel is likely to be better as the Triumph uses conventional forks where the BMW has a Telelever front end, but for the same reason the BMW's braking will be stronger with little dive and better stability. The BMW has a 5.5 gallon (25 litre, 6.6 gallon US) tank but will certainly have significantly better economy so its range will be longer. But the biggest factor against the British bike is its mass, a very substantial 93lb (42kg) heavier at least. And if the figure given is not with a full tank, then it's heavier still.
Donate to the Kevin Ash Fund
Kevin's funeral was held on Thursday 28th February 2013 and was well attended by family, friends and colleagues.
The Telegraph has very kindly established The Telegraph Kevin Ash Fund to assist with the education of Kevin's three daughters.
If you'd like to make a donation then you can use the PayPal 'Donate' button below which will allow you to donate from your PayPal account, or via credit or debit card. A small percentage (about 3.4%) will be retained by PayPal for the service.
Kevin's family have been touched by the generosity and messages of support from people using the website and would like to express their gratitude to those who have contributed in any way.
The donations keep coming in, thank you so much, and the family especially like it when you leave a message.