New 2010 Ducati Multistrada 1200
By Kevin Ash - 12/11/2009
Ducati has released the first official image of the new Multistrada 1200 and has said it will be powered by a retuned version of the liquid-cooled, eight-valve Testastretta engine that powers the 1198 superbike.
The Bologna factory has not released power or torque figures but does say the engine has been modified for improved smoothness and manners at lower revs and speed, and undoubtedly the 1198's 168bhp will be reduced in favour of increased torque and everyday usability.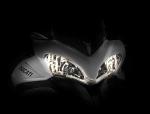 The previous Multistrada 1100's mission to provide sports bike handling and performance in a more comfortable and versatile package than conventional sports machines is retained, but many riders will be pleased the oddball looks of the old model appear to have been completely revamped. It was the Multistrada's style more than any other factor which held back its sales, as it was in other respects an outstanding motorcycle.
Ducati claims full all-rounder status for the Multistrada 1200, from high performing sports bike to long distance, two-up tourer with luggage, which will undoubtedly be a factory option as it was on the old Multi.
The bike will be officially unveiled at the EICMA 2009 Motorcycle Show in Milan on November 9.
Donate to the Kevin Ash Fund
Kevin's funeral was held on Thursday 28th February 2013 and was well attended by family, friends and colleagues.
The Telegraph has very kindly established The Telegraph Kevin Ash Fund to assist with the education of Kevin's three daughters.
If you'd like to make a donation then you can use the PayPal 'Donate' button below which will allow you to donate from your PayPal account, or via credit or debit card. A small percentage (about 3.4%) will be retained by PayPal for the service.
Kevin's family have been touched by the generosity and messages of support from people using the website and would like to express their gratitude to those who have contributed in any way.
The donations keep coming in, thank you so much, and the family especially like it when you leave a message.