MV Agusta F4R Corsa Corta
By Kevin Ash - 25/09/2012
MV Agusta has introduced a lower spec version of its flagship F4 RR superbike fitted with the same 'Corsa Corta' (short stroke) engine.
This latest engine is fitted with a lighter crankshaft giving it a shorter stroke, and it now has very oversquare dimensions of 79 x 50.9mm allowing the 998cc motor to rev to a 13,700rpm maximum, but with reduced piston speeds for improved reliability.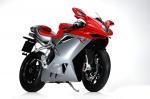 The power output is 192.5bhp, around 6bhp less than the £18,000 F4 RR which benefits from hand finishing to the cylinder head ports. Otherwise the head is the same, completely reworked compared with the old one with new port shapes and larger valves. These are all titanium, and lighter than the older engine's valves despite being larger. The 4-2-1-4 exhaust system is new, while the intake system continues to employ MV's Torque Shift System, which changes the intake funnel length to boost low rev torque.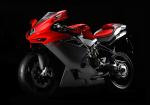 The engine redesign has focussed on reducing internal friction, down to details such as reducing the revs at which the alternator and water pump operate, while the traction control system has been refined to be smoother and more dependable. There are also two engine maps to choose from.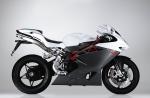 The chassis has been updated with a lighter swingarm weighing just 11lb (5kg), and the F4 R is continuing to use 50mm Marzocchi forks and a Sachs rear shock, along with Brembo Monobloc front brakes (the RR is fitted with Öhlins, and also has an adjustable head angle which the R doesn't). There are other details differences helping to reduce the price, which is £14,500 in the UK.
Donate to the Kevin Ash Fund
Kevin's funeral was held on Thursday 28th February 2013 and was well attended by family, friends and colleagues.
The Telegraph has very kindly established The Telegraph Kevin Ash Fund to assist with the education of Kevin's three daughters.
If you'd like to make a donation then you can use the PayPal 'Donate' button below which will allow you to donate from your PayPal account, or via credit or debit card. A small percentage (about 3.4%) will be retained by PayPal for the service.
Kevin's family have been touched by the generosity and messages of support from people using the website and would like to express their gratitude to those who have contributed in any way.
The donations keep coming in, thank you so much, and the family especially like it when you leave a message.