Multistrada Stretches Servicing
By Kevin Ash - 30/10/2010
Ducati has extended the major service intervals on the new Multistrada to 15,000 miles (24,000km).
The company says it has been able to double the mileage between valve clearance inspection compared with current Ducatis by introducing a new valve seat material. This and improved combustion efficiency and temperature management in the new 11 degree Testastretta engine - based on the 1198 superbike's - have meant valve and seat wear are significantly reduced.
The bike will still need minor 7,500 mile (12,000km) services to change oil and filters, but the running costs of the bike promise to be very low.
The Testastretta 11 ° is so called because the valve overlap - the period when inlet and exhaust valves are both open - has been reduced to 11 degrees of crank rotation, reducing maximum horsepower but improving low and medium rev torque as well as fuel efficiency and emissions.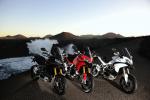 The 417lb (189kg) Multistrada 1200 is offered with optional ABS, while the flagship Multistrada 1200 S features ABS, electronically adjustable Öhlins suspension, variable maximum engine power and traction control as standard. The 1200 S is available as the Sport option with various carbon fibre components, and as the Touring with side luggage, heated grips and a centre stand.
The bike will go on sale in early March, although as demand is already very high there is a lengthening waiting list. Prices are £10,995 for the base model, £11,695 for the ABS version and £14,295 for the 1200 S Sport and Touring models.
Donate to the Kevin Ash Fund
Kevin's funeral was held on Thursday 28th February 2013 and was well attended by family, friends and colleagues.
The Telegraph has very kindly established The Telegraph Kevin Ash Fund to assist with the education of Kevin's three daughters.
If you'd like to make a donation then you can use the PayPal 'Donate' button below which will allow you to donate from your PayPal account, or via credit or debit card. A small percentage (about 3.4%) will be retained by PayPal for the service.
Kevin's family have been touched by the generosity and messages of support from people using the website and would like to express their gratitude to those who have contributed in any way.
The donations keep coming in, thank you so much, and the family especially like it when you leave a message.