Moto Guzzi 90th Anniversary
By Kevin Ash - 12/07/2012
The Piaggio Group has pledged a major raft of investments into Moto Guzzi in the next five years.
Piaggio Chairman and CEO Roberto Colaninno announced at Guzzi's 90th Anniversary celebration in Mandello del Lario that £35 million (€40 million, US$55 million) would be going into new model development over this period. In addition, a three phase plan has been enacted which will see the factory's most historic buildings renovated and modernised, with others demolished and new ones built in their place.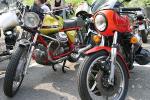 Work has already started, as more than 20,000 visitors over the weekend of September 17-18 could see when the factory was opened as part of the celebrations. While this was the number that registered for the event, it's thought several thousand more turned up without registering, and certainly the town was packed with visitors and their bikes.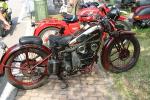 The proportion of older bikes was much higher at this Guzzi event than similar ones such as BMW's Garmisch meeting and the World Ducati Weekend, reflecting low sales of modern Guzzis compared with the past. This year the company will make only 6,000 or so bikes, although this is 30 per cent higher than last year's output with signs that confidence in Guzzis among potential customers is growing, thanks to improvements in design and quality.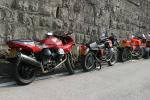 Foreign interest in Guzzi is still high, with 60 per cent of visitors coming from abroad, including 800 from the UK and others from the USA, Australia and Japan.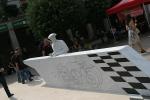 Colaninno symbolised his commitment to Guzzi by unveiling a statue of founder Carlo Guzzi in one of Mandello's squares.
Donate to the Kevin Ash Fund
Kevin's funeral was held on Thursday 28th February 2013 and was well attended by family, friends and colleagues.
The Telegraph has very kindly established The Telegraph Kevin Ash Fund to assist with the education of Kevin's three daughters.
If you'd like to make a donation then you can use the PayPal 'Donate' button below which will allow you to donate from your PayPal account, or via credit or debit card. A small percentage (about 3.4%) will be retained by PayPal for the service.
Kevin's family have been touched by the generosity and messages of support from people using the website and would like to express their gratitude to those who have contributed in any way.
The donations keep coming in, thank you so much, and the family especially like it when you leave a message.