Moto Guzzi 2011 New Models
By Kevin Ash - 16/05/2011
* Norge GT 8V
Guzzi's rarely seen but effective tourer finally gains the company's 8 valve power unit, which also boasts changes to the engine management, oil cooling and exhaust systems for smoother running.
Mid-range torque of the 1151cc engine is boosted to 77lb.ft (104Nm) at 5,500rpm, while the power peak is 100bhp (102PS, 75kW) at 7,000rpm. Guzzi says the power curve is 20 per cent higher than the old four-valve engine's.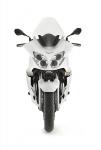 Other changes include more compact crankcases and tapered cooling fins which led to minor chassis and fairing changes. Of all the bodywork, only the headlight unit is carried over from the old model. The windscreen is electrically controlled and the bike also has a dual layer lug - no idea what that is but it could be useful. Guzzi says the new bike offers better wind protection for rider and passenger as well as isolation from engine heat and reduced drag.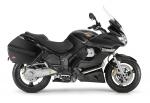 Other changes include a clearer instrument panel, lower seat at 31.9in (810mm) which is also wider and better padded, lower handlebars moved further forward, a 12V power socket, heated grips, new side stand design and so on. The suspension has firmer springs and revised damping for better stability, and the ABS has been uprated.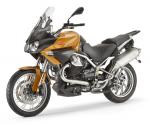 * Stelvio 1200
The 2011 Moto Guzzi Stelvio addresses the main criticism of the old model - inadequate range - with its new 7.0 gallon (32 litre, 8.4 gallon US) fuel tank. This is blended into the new bodywork which also does away with some of the previous dopey-eyed appearance.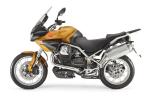 As well as nearly doubling the bike's range, the new screen and upper bodywork are claimed to improve aerodynamics and rider wind protection. Other changes include revised instrumentation and revised engine management for better response, economy and emissions, as well as a new shape seat. Power and torque figures are identical to the Norge's.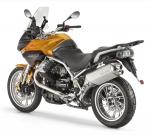 As before, an NTX version is also available, featuring a sump guard, cylinder guards and hand protectors, along with adventure-style aluminium side boxes and halogen spot lights.
Donate to the Kevin Ash Fund
Kevin's funeral was held on Thursday 28th February 2013 and was well attended by family, friends and colleagues.
The Telegraph has very kindly established The Telegraph Kevin Ash Fund to assist with the education of Kevin's three daughters.
If you'd like to make a donation then you can use the PayPal 'Donate' button below which will allow you to donate from your PayPal account, or via credit or debit card. A small percentage (about 3.4%) will be retained by PayPal for the service.
Kevin's family have been touched by the generosity and messages of support from people using the website and would like to express their gratitude to those who have contributed in any way.
The donations keep coming in, thank you so much, and the family especially like it when you leave a message.