Monkey Bikes
By Kevin Ash - 07/10/2011
Some of the UK's finest Monkey bikes gathered in Warwick in the summer of 2010 simply to show off to a visiting Japanese magazine!
Around 30 bikes came from as far as Cornwall and Cumbria to the UK's premier monkey bike centre, Monkey Bike UK, some with specifications more at home on a homologation special superbike. Andrew Mitchell's machine, painted in CB1100R colours, includes Brembo brakes, Γ–hlins rear shock, single-sided swingarm, upside down forks and Japanese G-Craft billet frame.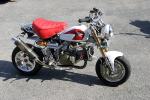 The engine is Japanese-built by Monkey specialist Takegawa and includes a four-valve DOHC head, high compression 124cc cylinder and magnesium engine covers. Andrew reckons it's good for 90mph. "These might be little machines but they have big bike build quality," he says. "So they're not bad at all at high speed, they handle it pretty well."
Mitchell has built up his bike over a period of years, but reckons if you bought all the parts today it would cost around £20,000!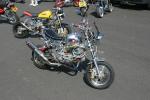 One anonymous owner wouldn't say how much his bike cost: "My wife has no idea how much I spend. Once when I bought a new swingarm I left it in a cupboard for six months so I could pretend I just found it knocking around among the spares."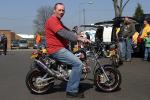 Andrew Mandale organises club runs in Cumbria: "We ride the bikes as well as show them, and they're good runs too, often more than 100 miles in a day around the Lakes." He's spent around £10,000 on his bike over three years, which features a billet frame, Aprilia Mille R Brembo calipers, Showa suspension, NSR wheels and a TJR 164 Superhead +R engine - the 164 is its capacity, not horsepower, it makes 22bhp. "You never really finish with these bikes," he says. "New stuff comes out all the time so you sell off the old bits and fit the latest!"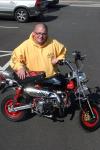 Toby Howard-Willis was with a group from the Monkeyspunkers - "...because we spunk our money on Monkey bikes" - and brought his 40th Anniversary Monkey. 1000 of these were made in 2007 by Honda and only 20 came to the UK. Three of them were at the Warwick meeting.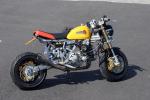 Other machines included a Monkey café racer with Triumph Thruxton-type paint job by Dream Machine belonging to Garry Stone, who appropriately lives in Hinckley. It also features a Quill pipe with Akrapovic can, dry clutch, Brembo brakes and Takegawa twin-cam engine.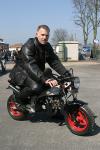 Most of the bikes arrived in vans but Paul Garrett rode his rare 1987 Monkey R 110 miles from Guildford in Surrey. The twin spar frame and bodywork were stock but the Takegawa Superhead motor was 124cc. "It's fine for this sort of trip, though I came up the A-roads rather than on the motorway."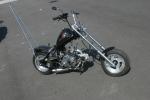 Why do people do this? Mark Clarke owns the radical 'Orange County' Monkey chopper. "I used to do motocross and stopped that, but I'm a bit of a petrol head and like making them. I have about 15 and they're all different, and when I build a new one I want it to be different to the others. That's why I made the chopper."
Norihiko Takahashi from the Japanese Monkey Cruising magazine was impressed with what he saw: "There's a really big following for Monkey bikes in Japan so the standards are very high, but these British bikes are high quality, our readers will be very interested in seeing them!"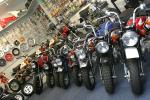 For more info on Monkey bikes, contact Monkey Bike UK 01926 402600, Monkey Bike UK
Donate to the Kevin Ash Fund
Kevin's funeral was held on Thursday 28th February 2013 and was well attended by family, friends and colleagues.
The Telegraph has very kindly established The Telegraph Kevin Ash Fund to assist with the education of Kevin's three daughters.
If you'd like to make a donation then you can use the PayPal 'Donate' button below which will allow you to donate from your PayPal account, or via credit or debit card. A small percentage (about 3.4%) will be retained by PayPal for the service.
Kevin's family have been touched by the generosity and messages of support from people using the website and would like to express their gratitude to those who have contributed in any way.
The donations keep coming in, thank you so much, and the family especially like it when you leave a message.