Metzeler Sportec M5 Interact test
By Kevin Ash - 25/03/2013
Metzeler's Sportec M5 Interact is designed not just to replace the old M3 supersport tyre, but to broaden the number of bikes it can be fitted to.
The application of new technology means the Sportec M5 works with the increasing number of bikes offering superbike performance in more conventional styles, mainly the fast-growing naked bike sector. As such it should also be better suited to superbikes used for touring and commuting as well as track days and fast road use.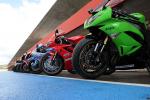 As these bikes tend to be used for a wider range of riding, including touring and urban usage in all kinds of weathers, so Metzeler's engineers have focussed on improving the Sportec M5's abilities in these areas, in addition to building on what the M3 could do.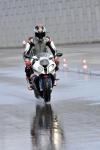 The key to this is what Metzeler calls its Multi Zone Tension technology - full technical feature here - which increases the amount of rubber in contact with the road by up to 8 per cent and combines with the dual compound rubber (softer on the sides for more grip, harder in the centre for better mileage and stability) to improve grip, especially in the wet, without worsening wear or stability.
Does it work? The Portuguese weather obliged with perfect conditions at the Portimao circuit test venue, giving us a wet track in the morning followed by completely dry in the afternoon. Metzeler played its part by lining up a range of sports bikes for track and road, each fitted with the Sportec M5.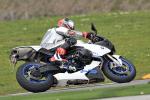 It's impossible to tell in isolation if the Sportec M5 has more grip than its rivals, but there's certainly plenty, the BMW S1000RR for example was taking huge amounts of throttle before the traction control was kicking in. What is much more obvious is the change in feel of the tyre. Metzeler talks about it giving increased ride confidence, and that comes from the feedback and accuracy which encourage you to lean further until you can really feel how the tyre is coping. In the wet especially it doesn't have that edgy, isolating sensation of many tyres, instead feeling secure then letting you know clearly when it's nearing the limit of its grip. In the dry, it's at medium lean where the feel has really improved - a lot of sports tyres can feel vague at this point but the Sportec M5 keeps tracking with real accuracy, again increasing confidence.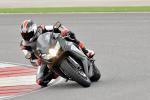 And just to add to the information the tyre gives you, there's a lean indicator too! (picture here) Okay, this is something of a tongue-in-cheek addition, but it's fun so why not? There are five lines moulded into the rubber numbered 1 to 5, and you'd better get that number 5 scrubbed off soon or your mates will point and laugh...
Overall the Sportec M5 feels like good sports touring rubber in the way a wide range of bikes were handling, steering easily and neutrally into turns, following its line accurately, but then it was backing that up with true sports tyre levels of grip. You will get a touch more stability from a sports-touring tyre, but the trade-off will be reduced agility - the mew Metzeler is very much a sports road tyre so you still need that.
Definitely worth trying for riders who use sports bikes for all kinds of duties, including serious track day duties, as well as less experienced riders looking to help their confidence.
Donate to the Kevin Ash Fund
Kevin's funeral was held on Thursday 28th February 2013 and was well attended by family, friends and colleagues.
The Telegraph has very kindly established The Telegraph Kevin Ash Fund to assist with the education of Kevin's three daughters.
If you'd like to make a donation then you can use the PayPal 'Donate' button below which will allow you to donate from your PayPal account, or via credit or debit card. A small percentage (about 3.4%) will be retained by PayPal for the service.
Kevin's family have been touched by the generosity and messages of support from people using the website and would like to express their gratitude to those who have contributed in any way.
The donations keep coming in, thank you so much, and the family especially like it when you leave a message.