Men Ride to Spain
By Kevin Ash - 21/10/2011
One bloke and two don't knows are going to ride to Spain on motorbikes.
The bloke's on an R1 with what looks like a swastika and death's head on the side so he could get a mixed reception. The other two are on blokey bikes too, but theirs are pink and they even have pink leathers, so they've got to be a bit unsure about which side of the bat to play off, you'd have thought. They could get a mixed reception too.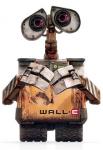 Or it could be just scraping the barrel because none of them are famous enough to be recognised but it's the best the bike industry could do, so they made them wear pink to make people look. You'd have thought arriving on bikes that look like Wall-E the Robot would have been enough.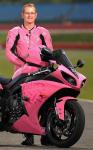 One of the don't knows used to be the rear half of a pantomime cat or something when Kajagoogoo were in the charts, while the other one runs the last Yamaha dealership in England, though he probably sells pianos because no one buys their motorbikes anymore. Oh, except Riders for Health which uses Yamahas for riding about in Africa, which is nothing to do with the fact this is in aid of Riders for Health, oh no.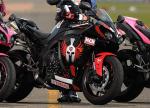 The bloke makes a living talking about motorbikes, so he's going to be interesting company, isn't he.
Donate to the Kevin Ash Fund
Kevin's funeral was held on Thursday 28th February 2013 and was well attended by family, friends and colleagues.
The Telegraph has very kindly established The Telegraph Kevin Ash Fund to assist with the education of Kevin's three daughters.
If you'd like to make a donation then you can use the PayPal 'Donate' button below which will allow you to donate from your PayPal account, or via credit or debit card. A small percentage (about 3.4%) will be retained by PayPal for the service.
Kevin's family have been touched by the generosity and messages of support from people using the website and would like to express their gratitude to those who have contributed in any way.
The donations keep coming in, thank you so much, and the family especially like it when you leave a message.