Man Buys Ducati 848
By Kevin Ash - 02/04/2010
A man has bought a Ducati 848. The man, who has been in the army, has ginger hair and well known parents (one of whom passed away) is said to like motorcycles because people can't see his face, although he looks alright to me. Maybe it's the hair he's bothered about.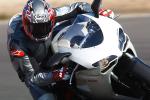 The man's brother also has a Ducati, but his is a bigger one, an 1198, but then he's older and older brothers always have to have bigger toys.
The two brothers went on a ride in Africa last year, or maybe the year before, and raised some money for charity, although it wasn't very much considering they're stinking rich and have stacks of posh friends.
So if you see an 848 it might be this man. Or it might not. It could even be a bird.
Donate to the Kevin Ash Fund
Kevin's funeral was held on Thursday 28th February 2013 and was well attended by family, friends and colleagues.
The Telegraph has very kindly established The Telegraph Kevin Ash Fund to assist with the education of Kevin's three daughters.
If you'd like to make a donation then you can use the PayPal 'Donate' button below which will allow you to donate from your PayPal account, or via credit or debit card. A small percentage (about 3.4%) will be retained by PayPal for the service.
Kevin's family have been touched by the generosity and messages of support from people using the website and would like to express their gratitude to those who have contributed in any way.
The donations keep coming in, thank you so much, and the family especially like it when you leave a message.