KTM Freeride news
By Kevin Ash - 30/10/2010
KTM will be the first major manufacturer to offer an electric motorcycle when its Freeride goes on sale towards the end of 2011.
The lightweight machine, available in trail and supermoto versions, is powered by a motor capable of a peak 30bhp (22kW) and 33lb.ft (4.5kgm, 44Nm) torque - overall weight is 198lb (90kg). A single lithium battery supplies the energy, enough says KTM for 45 minutes of running, after which it unplugs easily so it can be replaced by a fully charged one. Recharging takes 1.5 hours. KTM says the performance is comparable with a 125cc two-stroke.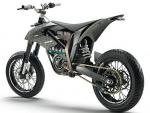 As well as showcasing KTM's technological capabilities, the Freeride is aimed at riders in urban and environmentally sensitive areas, where its silent running and zero tailpipe emissions will cause less friction with non-riding locals.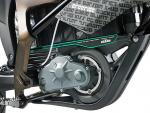 Cost is likely to be an issue though, with KTM quoting a price of around €10,000 ( £9,000, US$13,500). It is not yet clear how the battery supply will fit in with this, although KTM is looking at the possibility of leasing batteries.
Donate to the Kevin Ash Fund
Kevin's funeral was held on Thursday 28th February 2013 and was well attended by family, friends and colleagues.
The Telegraph has very kindly established The Telegraph Kevin Ash Fund to assist with the education of Kevin's three daughters.
If you'd like to make a donation then you can use the PayPal 'Donate' button below which will allow you to donate from your PayPal account, or via credit or debit card. A small percentage (about 3.4%) will be retained by PayPal for the service.
Kevin's family have been touched by the generosity and messages of support from people using the website and would like to express their gratitude to those who have contributed in any way.
The donations keep coming in, thank you so much, and the family especially like it when you leave a message.