KTM Duke 690
By Kevin Ash - 16/12/2012
Nasty things, single-cylinder bikes. Reluctant to rev, not much power, unreliable idling, severe vibration and all this stuff about lugging them at low revs, well you can't when they're threatening to grenade the transmission.
They work on dirt bikes because they help improve traction, and being light they're easy to pick up when you drop them. Er... and that's it. Then BMW's G650GS came along and showed that it doesn't have to be that way. It's pretty light but doesn't mind revs, it's smooth even when you drop the revs right down, and thanks to a single's fuel efficiency, it uses hardly any petrol. There's reasonable power too, enough to make it a considered choice as a budget all-rounder.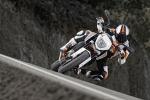 And so it is with the latest Duke 690, the second single-cylinder bike which needs no apologies in more generously cylindered company, while making a slightly different case for the one pot motor. It's been thoroughly revised for 2012, to the point where KTM says more than 90 per cent of its components have been modified or renewed entirely, all with the aim of retaining its fun and raw edge while making it easier and more comfortable to use.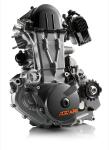 The cylinder head is the main engine change, now featuring a pair of spark plugs each with its own ignition map, combined with a full ride-by-wire throttle system. There are other changes to the exhaust and intake systems, service intervals are now at 6,000 miles (10,000km) and fuel consumption is claimed to be improved by 10 per cent. It was pretty good before - a single boasts lower internal friction than other engines so potentially it's the most economical layout.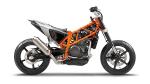 The chassis gets more compliant suspension, KTM's excellent version of the Bosch 9th generation ABS system, which made its debut on the KTM 990 SM-T ABS, a Brembo radial front brake calliper and widely adjustable Dutch WP suspension, while the seat is more plush and 1.2in (30mm) lower than before.
The key though is how the engine overcomes the traditional single-cylinder limitations. For a start, it produces a serious amount of power, 69bhp (70PS, 51.5kW) at 7,500rpm and with a good spread of torque too, yet the bikes weighs only 330lb (149.5kg), an instant recipe for sharp handling and punchy performance.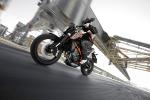 Crucially, you don't have to compromise too much to make use of this output. From 3,000rpm upwards the engine is crisp and eager, catapulting you past cars without having to worry the gearbox too much, and the bike cruises along motorways with a surprisingly relaxed lope, accompanied by a pleasing purr from the exhaust. It's smooth too, the vibration effectively nulled by the counterbalance system.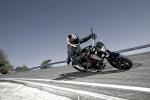 It's still not quite there at lower revs though. Where the G650GS can be chugged down to 2,000rpm and trickled around town unfussily, the KTM starts to shudder through its transmission and become jerky when you're rolling along at low speed, in slow moving traffic for example. It's not obstructively unpleasant but it doesn't match the best in class in this respect, although a the heavier flywheel which might cure this would give the engine a duller response, and that would spoil the rest of the bike. The GS is the sensible older brother where the KTM, despite being civilised for 2012, is still the wild and edgy one you'd want a fun night out with.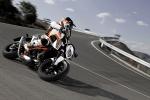 The economy still impresses, however. You have to work the bike hard to drop it below 50mpg (17.7km/l, 5.65l/100km, 42mpg US), while a decent motorway pace is still rewarded with more than 60mpg (21.2km/l, 4.7l/100km, 50mpg US), and general everyday riding, in town use included, should still you achieving the high 50s to the gallon. It's very close to the outstanding BMW in this respect, possibly even as good except that the KTM is a more exciting machine and the urge is stronger to open the throttle and brake late more than you need to. That's not a failing is it?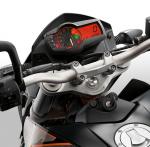 It's a very compact machine, to the point where 6'3" (1.91m) me felt a little oversized on it, but it really is a delight to chuck around tight corners and flick side to side on sinuous country roads. The suspension can feel too soft at times, and although the adjusters do their job, when set up more tautly the ride becomes harsh, but KTM has certainly achieved its aim of enhancing the all-round appeal without diluting the core wild side to any great extent. You could even go touring on the Duke, if you don't mind the lack of wind protection, it's comfortable enough and the 3.1 gallon (14l, 3.7 gallons US) tank is good for 180 miles (290km) or more. What a shame though there's no fuel gauge, just a warning light when the level's low.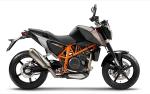 Great fun then and a fine all round bike, but at the price there are plenty of twins with stronger performance. They all weigh more, but you get more horsepower too - the Triumph Street Triple is a prime example, only £300 more, just as much fun and more versatile with it. Or a Suzuki Gladius will save you £1,000 and you'll hardly suffer for that.
Specifications
Model tested: KTM Duke 690
Price: £6,595
Available: now
Engine: single cylinder, liquid cooled, dohc 4v, 690cc
Power: 69hp (70PS, 51.5kW) @ 7,500rpm
Torque: 52lb.ft (7.2kgm, 70.5Nm) @ 5,500rpm
Economy: 58mpg (20.5km/l, 4.9l/100km, 48mpg US) test average
Tank/Range: 3.1 gallons (14 litres) / 180 miles (290km)
Transmission: Six-speed, chain drive
Chassis: tubular steel trellis
Seat height: 32.9in (835mm)
Wheelbase: 57.7in (1466mm)
Rake/trail: 26.5 °/4.53in
Weight: 330lb (149.5kg) wet, no fuel