KTM 1190 Adventure news
By Kevin Ash - 25/09/2012
KTM is back pitching at BMW's R1200GS with its 2013 1190 Adventure, and the new bike has a much stronger road bias than the old Adventure.
The V-twin engine is a development of the LC8 unit which powers the RC8 superbike, and in this new Adventure guise makes148bhp (150PS, 110kW). Torque is 84lb.ft (12.7kgm, 125Nm), although rpm figures have yet to be released. Service intervals are set at 10,000 miles (15,000km), the same as Triumph's Tiger Explorer.
A big advantage is the bike's weight, claimed at 507lb (230kg) with a full tank (whose capacity we don't yet know). This is less than the current air-cooled R1200GS and well shy of the Tiger Explorer's 261kg.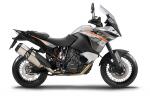 The electronics package includes multi-adjustable ABS and electronic suspension (using WP forks and shock), and includes off-road settings as well as various road ones. Tubeless tyres on 19 inch and 17 inch front and rear wire-spoked wheels are fitted, while the footrests, seat height, handlebar position and screen are all adjustable.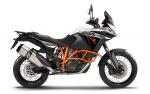 There is also an Adventure R version with a stronger off-road bias. This weighs an additional 5kg and comes with crash protection bars, 21 and 18 inch front and rear wheels and longer travel suspension. It also features a different seat and cut down screen.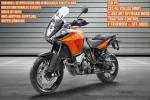 The first image of the 1190 Adventure (left) was published for a short period on KTM's website, apparently by accident, although the timing coincided with the release of details about Ducati's new Multistrada, suggesting it was designed as a spoiler. Plenty of information about the bike has been available previously too.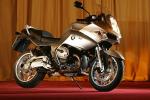 The bike generally has a familiar, angular KTM look, albeit conservatively done, but the brochure image shows a tall and unattractive headlight, similar to the hated 'lozenge' light on BMW's R1200ST from 2007. No prices have been announced other than a statement that the 1190 Adventure will be competitive with its main rivals.
Donate to the Kevin Ash Fund
Kevin's funeral was held on Thursday 28th February 2013 and was well attended by family, friends and colleagues.
The Telegraph has very kindly established The Telegraph Kevin Ash Fund to assist with the education of Kevin's three daughters.
If you'd like to make a donation then you can use the PayPal 'Donate' button below which will allow you to donate from your PayPal account, or via credit or debit card. A small percentage (about 3.4%) will be retained by PayPal for the service.
Kevin's family have been touched by the generosity and messages of support from people using the website and would like to express their gratitude to those who have contributed in any way.
The donations keep coming in, thank you so much, and the family especially like it when you leave a message.