Kawasaki ZX-6R Ninja 2013
By Kevin Ash - 25/09/2012
Kawasaki has released details of its 2013 ZX-6R Ninja, and the Akashi factory's returned to its old 636cc capacity.
Kawasaki has loaded the bike with the latest electronics, including its KIBS race anti-lock braking system, which monitors front brake line pressure and rear wheel lift as well as wheel speeds. It also has a 3-mode KTRC traction control system and engine management power mode selection, giving the new middleweight more electronics than many one litre superbikes.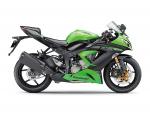 The outgoing model's 67mm bore size is retained, with the additional 37cc coming from an increase in stroke, a move designed to boost mid-range power in particular as well as low rev thrust to improve its roadability. A self-servo slipper clutch is fitted to lighten the lever action and reduce rear wheel skip under heavy braking. No power and torque figures have been released.
The suspension is also new and includes what Kawasaki describes as next generation Showa SFF Big Piston Forks. The SFF stands for Separate Function, likely to mean the rebound and compression damping functions have been made completely independent of each other.
The bodywork is all new and uses styling elements derived from the current ZX-10R Ninja.
Donate to the Kevin Ash Fund
Kevin's funeral was held on Thursday 28th February 2013 and was well attended by family, friends and colleagues.
The Telegraph has very kindly established The Telegraph Kevin Ash Fund to assist with the education of Kevin's three daughters.
If you'd like to make a donation then you can use the PayPal 'Donate' button below which will allow you to donate from your PayPal account, or via credit or debit card. A small percentage (about 3.4%) will be retained by PayPal for the service.
Kevin's family have been touched by the generosity and messages of support from people using the website and would like to express their gratitude to those who have contributed in any way.
The donations keep coming in, thank you so much, and the family especially like it when you leave a message.