Kawasaki VN1700 Voyager
By Kevin Ash - 22/02/2010
Kawasaki rather coyly says the 1700 Voyager's styling is inspired by 1960s sports cars... Well that's one way of avoiding a mention of the Harley-Davidson Electra Glide Ultra, but few people will be fooled.
Very obviously the Japanese V-twin - Kawasaki's first full dress machine since the 1986 1200cc Voyager - is not only pitched directly at the Electra Glide, it's designed to look very much like it too. Even the white-on-black clocks with their serif font are in the same style as Harley's so the look from the cockpit is as American as the bike's profile.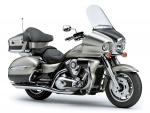 Having said that, generally it's been well executed as the bike looks the part, to the point where it is indeed mistaken for an Electra Glide, although in practice it's not quite as kitsch as the American original.
The Voyager 1700 will always fall at the final hurdle in its pursuit of Harley-ness, and that's the badge, but there will inevitably be some riders who want a full dress V-twin but who either don't want a Harley or who do want a Japanese bike, possibly a Kawasaki specifically. Given that the Voyager does a good job in looking the part, how does it work as a motorcycle?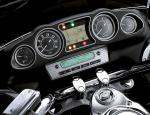 Beyond the image this kind of bike is designed for comfortable and gentle long distance touring with the emphasis on comfort over handling, with an overlay of feel and character. It's one of those machines which certainly looks extremely comfortable with its plush seat, stretching out the rider's legs and with plenty of screen and bodywork to protect from the elements. But looks can and often do deceive in this class: within an hour I was shifting about trying to prevent the beginnings of backache from getting any worse, as the riding position prevents you from taking any weight through your legs, and for taller riders like myself, the sculpted seat pushes you slightly too far forwards and curving your spine. You can't slide back as on a conventional bike seat, and thanks to the underdamped suspension you can take a pounding through your back on bumpy roads too.
The screen height presents problems for various stature riders. For me, the top edge cuts right across the field of vision, which is disconcerting in lower speed corners and trickling through traffic, and while shorter riders will be looking through below that edge, in the rain it gets difficult to see where you're going! I find it surprising that this hasn't been taken into account, and during those slimy conditions when everything gets coated in a fine mud spray there are going to be real problems for some Voyager riders, especially with the sun low and in front. Back to taller riders and another problem they'll face is a constant vibration from turbulence, which becomes tedious and tiring. Alternative size screens could solve these issues but an adjustable one would be much better.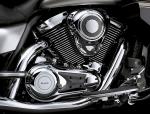 The rest of the fairing is entirely convincing, very solid and with good wind protection, plus all the shiny bits you could ever want and with three effective lights up front too. Where the bike differs from a Harley is that the entire fairing is fixed to the frame rather than the upper half turning with the bars, which helps with stability and feel considerably. Cruising at 90mph and more feels perfectly secure, although inevitably there's little feedback from the suspension - this is why ABS is so important on these bikes, and the Kawasaki has an excellent linked system equipped with a sophisticated version that brings it to a halt rapidly and with no fuss on a range of surfaces.
The luggage is less impressive as it's very flimsy. There's a cheap lock (already rusting on my new test bike) in one corner of the large topbox lid which could be prised open with little effort, while the box itself and the panniers feel thin and unsubstantial, certainly compared with the chunky Harley equivalents. No doubt this helps minimise overall weight, but it's how things on the bike feel that really matters, and the Voyager's luggage doesn't have that solidity and tactility that riders in this category are used to.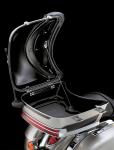 The bike itself handles well though, with good balance at low speeds - important when it's this big - and neutral steering at all speeds from walking pace upwards, although the clutch has a vague engagement point and mushy feel that makes U-turns and similar manoeuvres more difficult that they should be. The transmission can whine quite noisily too, while engaging the lower gears is very heavy, more than necessary to provide the overtly mechanical feel that can be enjoyable on this kind of bike.
The engine itself is a very low revving unit with plenty of torque, as it should be, but a softer, smoother feel than a Harley that will come across as anodyne to some, more sophisticated to others. I missed the raw, punchier feel of a Harley, and nothing else sounds quite the same either, though the Kawasaki is more economical at 40mpg in normal riding. That gives it a range of 175 miles, or probably 140-150 miles until you're worrying about the next stop, which isn't really enough.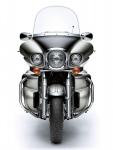 You get a radio and the option of plugging in your iPod, and this is remarkably clear up to high speeds, while the ambient sound compensation works well too, raising the volume as you go faster. A shame though the radio doesn't have RDS, so you only get the frequency and not the station's name when you tune - this is a pretty basic function these days and ought to be included on a bike at this level. It wasn't keen to tune into any but the very strongest signals either.
The Voyager certainly has the Electra Glide look then and it's dripping with equipment, but in some aspects it falls short of what's needed. In some of these an Electra Glide is also lacking - turbulence from the screen for example - but that doesn't excuse them on the Kawasaki. Where it does score in the near- £4000 saving over the Electra Glide Ultra Classic with its £13,499 price, for which you get the look, an undoubtedly durable and reliable motorcycle but not quite the Harley experience.
World's first full test, Friday, January 22!
Donate to the Kevin Ash Fund
Kevin's funeral was held on Thursday 28th February 2013 and was well attended by family, friends and colleagues.
The Telegraph has very kindly established The Telegraph Kevin Ash Fund to assist with the education of Kevin's three daughters.
If you'd like to make a donation then you can use the PayPal 'Donate' button below which will allow you to donate from your PayPal account, or via credit or debit card. A small percentage (about 3.4%) will be retained by PayPal for the service.
Kevin's family have been touched by the generosity and messages of support from people using the website and would like to express their gratitude to those who have contributed in any way.
The donations keep coming in, thank you so much, and the family especially like it when you leave a message.