Husqvarna TR650
By Kevin Ash - 25/09/2012
Husqvarna has announced two new models, the TR 650 Terra and TR 650 Strada.
The Terra is described as capable of light off-road riding, while the Strada is a pure road bike. Both are powered by the same BMW G650GS-derived, 652cc single-cylinder engine. This has been extensively modified with new camshafts, a revised cylinder head with different intake and exhaust porting, a higher compression ratio and bigger valves. Lighter forged piston replaces the BMW's cast item, and the crankshaft and counterbalance shafts have been lightened to complement this and improve throttle response. The fuel injection and exhaust system are also new and unique to the Husqvarnas.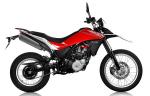 The power is up from the GS's 47bhp at 6,5000rpm to 58bhp (58PS, 43kW) at 7,250rpm, while economy is claimed to be 65.7mpg (25.3km/l, 4.3l/100km, 54.7mpg US) at a steady 75mph (120kph).
The TR 650 Strada comes with cast aluminium wheels while the TR 650 Terra has wire-spoked ones and a 21 inch front, where the Strada's is 19 inches. The Strada is fitted with ABS as standard, where it's an option on the Terra. Seat height of the Terra is 34.1in (865mm) and the Strada's is 33.9in (860mm), so neither will suit shorter riders. The Strada weighs 406lb (186kg) and the Terra 403lb (183kg) fully fuelled - the tank capacity is 3.1 gallons (14 litres, 3.7 gallons US).
The bikes are due in UK showrooms in September 2012, although prices have yet to be released. 48bhp (35kW) versions will also be available for restricted licence holders.
Donate to the Kevin Ash Fund
Kevin's funeral was held on Thursday 28th February 2013 and was well attended by family, friends and colleagues.
The Telegraph has very kindly established The Telegraph Kevin Ash Fund to assist with the education of Kevin's three daughters.
If you'd like to make a donation then you can use the PayPal 'Donate' button below which will allow you to donate from your PayPal account, or via credit or debit card. A small percentage (about 3.4%) will be retained by PayPal for the service.
Kevin's family have been touched by the generosity and messages of support from people using the website and would like to express their gratitude to those who have contributed in any way.
The donations keep coming in, thank you so much, and the family especially like it when you leave a message.