Husqvarna SMS630 and TE630
By Kevin Ash - 12/03/2011
It's a surprise to realise that BMW signed the agreement to buy Husqvarna from the MV Group way back in July 2007.
The Italian-built Swedish brand has been relatively quiet since then, at least in comparison with the higher profile Harley takeover of MV Agusta itself, and for road riders in particular, the new 2010 SMS630 and TE630 are the first real signs that anything significant has been happening.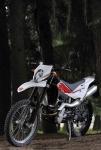 That these bikes exist at all though is due to the BMW-invoked policy of broadening the appeal of Husqvarna's bikes, extending this beyond the hard-core, off-road competition niche to help sustain and expand sales. This is exactly the brief for the TE630 trail bike and supermoto SMS630, to retain Husqvarna's hard edged values but package them in a more friendly fashion so more casual users will also be tempted to look at the brand.
According to Mario Romieri, the planning manager, it was important for Husqvarna's racing soul to be retained but to make the bike more suited to everyday use, so it can do everything from popping down to the shops right up to competing in a rally raid.
The TE630 therefore is in part at least, up against gentle trail bikes such as the Yamaha XT660R, Suzuki's DR650SE (still available in some markets) and the like. The easier use philosophy had been applied to the previous TE610 model of 2009, and that's been built on with the 630 among the general upgrades. The 610's 576cc engine has been changed significantly for the 630, with a 2mm bore increase to 100mm and a double overhead cam cylinder head fitted, derived from the company's race bikes and replacing the previous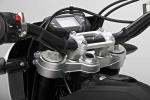 single overhead cam design. This has led to a near-20 per cent power increase to 57bhp, with reliability helped by the use of a three-bearing crankshaft as opposed to the two on the 610, along with cooling and lubrication improvements. The throttle body size is up 3mm to 45mm to feed the extra demand for air, and a hydraulic clutch replaces the previous cable-operated version.
Although Husqvarna clearly would have liked even more capacity to compete with the 650+cc rivals, the company says the existing engine would not stand a capacity increase any more than they've done without reliability being affected.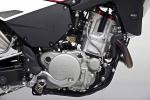 Other changes include a 30mm (1.2in) lower seat, specifically to increase the potential customer base. This is achieved by reducing suspension travel by this amount, while a new subframe has been fitted in order to cope with the weight of a passenger and luggage in regular road use. The main frame is unchanged aside from a one degree increase in rake angle to 28 degrees, improving high speed stability. Husqvarna says it benchmarked KTM's bikes with this as they were very stable at speed and it has matched this without affecting its own bike's better agility.
Our test took us on a mix of twisting country roads, urban riding and some relatively undemanding trails, and generally the TE630 impressed, especially the chassis. On rocky terrain where an XTZ would be kicking and bucking and bouncing way off line, the TE tracks much more accurately and absorbs holes and ruts with impressive panache. For inexperienced riders in particular it's a very forgiving bike that flatters, which is exactly what most owners in the sector will want, yet its handling sharpness and agility are still good enough to be satisfying for more aggressive riding.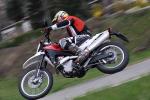 It's not significantly heavier than the 610, despite the spec sheets suggesting it's 17.6lb (8kg) more. In fact under the old regime, bikes were weighed differently... which is current Husqvarna's politically gentle way of saying they weren't exactly accurate. In fact the new bike's 328.5lb (149kg) is only around 4-6lb (2-3kg) more, mostly due to the new twin silencer exhaust essential to get the bike through current emissions regulations. The SMS weighs 333lb (151kg).
By compensation the power-to-weight ratio is better, although in any off-road bike, weight increase does matter a lot. But compared with the competition the TE630 feels a lot more wieldy and manageable in the dirt, and much more like a real enduro bike. As such, it's more relaxing and easier for most riders, as Husqvarna intended, yet it's still capable of generating some raw excitement.
Much of that comes from the engine of course, and this is very strong exactly where you need it, at low revs and into the mid-range, though it does rev a lot more readily than the old model too. The vibration becomes intrusive at high steady speeds on the road, which you might expect, although it's not inevitable with big singles as Yamaha shows.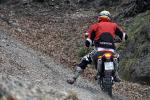 This you can put down to the harder edged air to the bike, and that's fair enough, but the engine's behaviour at low revs needs to improve. There's quite a lot of transmission snatchiness at low revs, which of course you do get with most big singles, although this is worse than average. The quick action throttle doesn't help, making it harder to control the engine at small power levels - off road this can make negotiating obstacles at low speeds harder work than it needs to be, and novice off-roaders will find the bike can run away with them on very bumpy going as they're inadvertently opening and closing the twistgrip.
There's no cush drive to soften things out either, but the fuelling itself is imperfect. On small throttle openings at low revs the engine is uncertain, sometimes firing, sometimes not, and it stalls much too readily. I could stop the engine on mine simply by blipping the throttle, after which it would sometimes stop rather than settling down into idle again, but the main symptom is a constant stuttering and jerking when you're trying to hold a low steady speed, in slow traffic for example, and this isn't just the transmission but the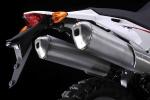 engine itself. Husqvarna in the UK says these bikes need to have the fuelling set up again after they're run in, and should smooth out if this is done, but the bike I rode wasn't good enough in this respect and it came straight out of the factory, so I have to judge it on that, We don't know anyway that the 630 engine will behave the same way as the 610's, which does benefit from the post-run-in fuelling changes.
There are some lesser irritations, such as the reversed horn and indicator switches (why have some manufacturers done that, it's completely pointless and only makes things worse!), and the difficult-to-operate 'suicide' side stand - this flips up automatically when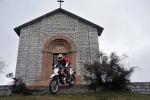 the bike's weight is off it, and it's very difficult to push out, almost impossible from the seat in fact. But overall the TE630 is a class act, and if that low rev fuelling can be sorted, will make an excellent all round trail bike with extensive off road ability and a measure of everyday practicality too. It needs this fixing first though.
As for the SMS630, this differs from the TE only in the most obvious, such as the 17 inch road wheels and tyres, the Brembo radially-mounted front calliper (rear brakes are the same), and bodywork, which incidentally on both bikes can all be removed and replaced without any tools..
SMS630
While Husqvarna is 12 times supermoto world champion, the SMS630 too is pitched at a broader, road riding audience, as interested in commuting on it as attacking sinuous back roads and maybe even entering the occasional race. And as with the TE, it works very well, aside from that engine uncertainty at low revs and small throttle openings.
Okay, that's 'very well' given that it's a supermoto, a concept I don't really get for road bike use. It's certainly fun and very agile on the right kinds of roads, but in the UK at least these are very rare, and even in Italy where they were chosen for the launch presentation, they weren't especially suitable as there were many blind corners and a lot of dirt and gravel down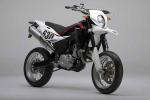 the centre (which claimed one victim a short distance in front of me...). That stretched out front wheel also means these bikes are prone to pushing the front wide and losing grip unless you adopt the special elbows out, hunched forward riding position to keep weight over the pointy end, while the longer than usual suspension travel has them pitching and diving under braking and acceleration.
That's a generic complaint though. Given those parameters the Husky handles very well, with exceptional flip-flop agility matched to unusually good high speed stability - Husqvarna claimed it had achieved this and riding the bike bears it out. Comfort's better than many supermotos (not difficult) with maybe an hour's life in the saddle before you notice it, while the 2.6 gallon (12 litre, 3. gallon US) tank is enough for a 130 mile (200km) range according to Husqvarna.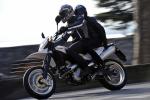 It suffers from the same low rev jerkiness - transmission and fuelling - as the TE630 though - so while it's otherwise much better suited to general use than previous Husqvarna supermotos, these would need to be addressed before I could recommend the SMS to general road riders. That's a shame as the motor is muscular and exciting, and raw enough to feel alive without being so rough and ready it feels crude.
Price:
Husqvarna TE630, £6,216
Husqvarna SMS630, £6,416