Honda MSX125
By Kevin Ash - 09/01/2013
Honda has unveiled a funky small-wheel mini 125 it says is built in the tradition of the classic Monkey Bike.
The Thai-built MSX125 is a compact fun bike sized somewhere between a mini-bike and a normal 125, and is aimed at the youth market primarily for urban riding.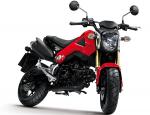 The engine is an air-cooled, fuel-injected 125 single with single overhead cam and horizontally laid out cylinder, mated to a four-speed gearbox with chain final drive. Inverted forks and monoshock rear suspension are used, fitted with 12 inch wheels, wide, low profile tyres and Nissin disc brakes front and rear. A steel spine frame is used.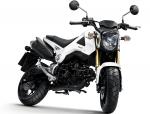 It looks like a fun machine, it's just a shame considering Honda's previous minibikes were called Monkey, Dax and Ape that a more appealing name than MSX125 wasn't used. Any suggestions will be passed on to Honda!
No price has been announced but Honda says the bike will go on sale in late Spring 2013.
Donate to the Kevin Ash Fund
Kevin's funeral was held on Thursday 28th February 2013 and was well attended by family, friends and colleagues.
The Telegraph has very kindly established The Telegraph Kevin Ash Fund to assist with the education of Kevin's three daughters.
If you'd like to make a donation then you can use the PayPal 'Donate' button below which will allow you to donate from your PayPal account, or via credit or debit card. A small percentage (about 3.4%) will be retained by PayPal for the service.
Kevin's family have been touched by the generosity and messages of support from people using the website and would like to express their gratitude to those who have contributed in any way.
The donations keep coming in, thank you so much, and the family especially like it when you leave a message.