Honda CBR250R news
By Kevin Ash - 06/11/2010
Honda has unveiled its first 2011 model, presumably concerned that as the new CBR250R is relatively mundane it will be lost in the flood of more glamourous models from Cologne and Milan.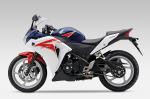 It will still have strong appeal though among riders after a dependable economy bike with some sporting style. The engine is a single-cylinder unit with fuel injection, four valves and double overhead cams, promised by Honda to be especially fuel efficient. A twin spar steel frame is used with monoshock rear suspension, while the instrumentation includes a rev counter, engine temperature and fuel gauges.
Price and availability have yet to be announced.
Donate to the Kevin Ash Fund
Kevin's funeral was held on Thursday 28th February 2013 and was well attended by family, friends and colleagues.
The Telegraph has very kindly established The Telegraph Kevin Ash Fund to assist with the education of Kevin's three daughters.
If you'd like to make a donation then you can use the PayPal 'Donate' button below which will allow you to donate from your PayPal account, or via credit or debit card. A small percentage (about 3.4%) will be retained by PayPal for the service.
Kevin's family have been touched by the generosity and messages of support from people using the website and would like to express their gratitude to those who have contributed in any way.
The donations keep coming in, thank you so much, and the family especially like it when you leave a message.