Hein Gericke Bust
By Kevin Ash - 25/09/2012
The UK arm of Hein Gericke has gone bust. The clothing and accessory retailer, which traded under licence from the German brand, has been placed in administration while a buyer is sought for the complete business.
Interested parties have until August 6 to get in touch with administrator Moorfields Corporate Recovery, and in the meantime Hein Gericke's 47 stores are to remain open while existing stock is sold off with 'massive price cuts' according to the Hein Gericke UK website.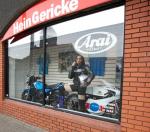 While trading conditions have been very difficult recent years and the recent record-breaking spell of persistent rain hasn't helped, Hein Gericke's policy of running its own dedicated stores meant overheads were very high compared with rivals selling through established motorcycle dealers.
Donate to the Kevin Ash Fund
Kevin's funeral was held on Thursday 28th February 2013 and was well attended by family, friends and colleagues.
The Telegraph has very kindly established The Telegraph Kevin Ash Fund to assist with the education of Kevin's three daughters.
If you'd like to make a donation then you can use the PayPal 'Donate' button below which will allow you to donate from your PayPal account, or via credit or debit card. A small percentage (about 3.4%) will be retained by PayPal for the service.
Kevin's family have been touched by the generosity and messages of support from people using the website and would like to express their gratitude to those who have contributed in any way.
The donations keep coming in, thank you so much, and the family especially like it when you leave a message.