Harley-Davidson SuperLow
By Kevin Ash - 09/04/2011
It's no accident that Harley-Davidson is concentrating much of its new model development on the entry level Sportster range...
It's here that the company can do the most towards its goal of attracting younger buyers, and it's here too that Harley pricing is at its most competitive. It still surprises a lot of people that the enduring dream of one day owning a Harley-Davidson can be attained for £5,850 - that's for the current 883 Sportster Low, which is budget middleweight territory, on top of which its very low seat height and easy manageability open up the customer base to many more women than most other bikes.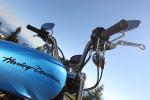 The SuperLow replaces the Low and is Harley's response to feedback from those customers, and it's clear from what's been done that these are people who are using their Sportsters as more than branded trinkets. The fuel capacity for example is up from a highly restrictive 2.75 gallons to a more reasonable 3.75 gallons, which with the 883 generally achieving 48-50mpg, lends the new bike a range of up to 190 miles.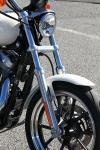 In a stroke it's a bike you can now go places on and the other changes enhance this ability. The suspension travel has been increased to improve the ride, and although it's still rather mean at 2.5in (64mm, little more than half a conventional bike's) the ride quality has improved noticeably. The fitment of Japanese Showa forks helps here too, as the damping all round is a lot more convincing than it used to be.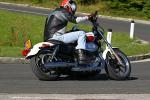 The downside, if that's the right word, is the seat height has increased slightly - never mind the bike's name or what the rest of the press says - up 20mm to 695mm from the Low's. It's narrower though at the front so it won't make a great deal of difference to most riders, but it's a shame nothing's been done about the ground clearance. The footrests scrape the Tarmac obstructively early, even for inexperienced riders, and it's because they're set very wide and are fitted with long 'touch down' bolts, both issues which should be easy enough to correct. One of the bolts snapped off on my machine and the other didn't look like it would last much longer, and I wasn't treating the bike in any way an owner wouldn't.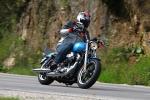 In fact, limited clearance aside, coming down a sun-kissed Austrian mountain pass the Sportster was thoroughly enjoyable. Other bikes would have been faster but that's irrelevant, what counts with Harleys is how they feel, and this felt very good indeed. The engine is smooth when you need it to be but shakes enough to let you know it's there, with sufficient torque at low revs to give the bike an effortless air. It steers well too, the easy neutrality belying the quarter ton weight (the steering geometry has been changed from the Low's), while the upright riding position with wide bars simply feels cool. It's good for controlling the bike at low speeds too, important in instilling confidence in novice riders.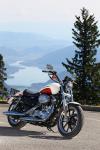 As an entry level motorcycle - regardless of badge - the SuperLow is a good choice, easy to ride with benign brakes and handling and that shortie-accommodating seat height. It's also a useful machine, one you could take on a tour where comfort and range won't get in the way, or commute through traffic easily enough.
The usual Harley irritation of mixing outstanding and poor finish hasn't been addressed yet. The paint design might look shapeless but the execution is exceptional, yet we still have hose clips attaching the exhaust heat shields, and a joint on the swingarm was already oozing a rust coloured film even on our new bikes.
Even so, at this price level the Harley dream is not only thoroughly accessible, you won't be disappointed when you meet your hero.
Model tested: Harley-Davidson XL883L SuperLow
Price: from £6,150
Available: now
Engine: 45-degree V-twin, air cooled, pushrod 4v, 883cc
Power: 60bhp (est) @ n/a rpm
Torque: 52lb.ft @ 3,750rpm
Economy: 48mpg average
Tank/Range: 3.75 gallons (17 litres)/180 miles
Transmission: Six gears, wet multi-plate clutch, belt final drive
Chassis: Steel tube
Seat height: 27.3in (695mm)
Wheelbase: 59.1in (1500mm)
Rake/trail: 31 °/ 5.7in (145mm)
Weight: 573lb (260kg) (wet)
Donate to the Kevin Ash Fund
Kevin's funeral was held on Thursday 28th February 2013 and was well attended by family, friends and colleagues.
The Telegraph has very kindly established The Telegraph Kevin Ash Fund to assist with the education of Kevin's three daughters.
If you'd like to make a donation then you can use the PayPal 'Donate' button below which will allow you to donate from your PayPal account, or via credit or debit card. A small percentage (about 3.4%) will be retained by PayPal for the service.
Kevin's family have been touched by the generosity and messages of support from people using the website and would like to express their gratitude to those who have contributed in any way.
The donations keep coming in, thank you so much, and the family especially like it when you leave a message.