Harley-Davidson Forty-Eight
By Kevin Ash - 30/10/2010
Harley-Davidson has unveiled its latest take on the Sportster, the Forty-Eight.
The bike is inspired by old hot-rodded versions of the Sportster and features a low, single seat, fat tyres (150mm wide front and rear on 16 inch spoked wheels), mirrors mounted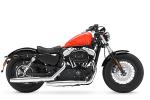 below the bars, wide-set forks, a shortened mudguards and various black-finished components. The fuel tank is the ludicrously small 2.1 gallon (8 litre) peanut tank, so called because it only holds one peanut.
The passenger seat and footrests are a cost optional extra.
Power unit is the stock 1200cc Sportster engine, finished in black. The bike is priced from £7,990.
Donate to the Kevin Ash Fund
Kevin's funeral was held on Thursday 28th February 2013 and was well attended by family, friends and colleagues.
The Telegraph has very kindly established The Telegraph Kevin Ash Fund to assist with the education of Kevin's three daughters.
If you'd like to make a donation then you can use the PayPal 'Donate' button below which will allow you to donate from your PayPal account, or via credit or debit card. A small percentage (about 3.4%) will be retained by PayPal for the service.
Kevin's family have been touched by the generosity and messages of support from people using the website and would like to express their gratitude to those who have contributed in any way.
The donations keep coming in, thank you so much, and the family especially like it when you leave a message.