Harley-Davidson FLD Dyna Switchback
By Kevin Ash - 12/07/2012
If you're after a Harley-Davidson for all-rounder duties your best bet is to start with the Dyna range.
Sportsters are entry level, the tourers are big and heavy while the Softails tend to be more form than function. The new 2012 year-model Switchback, available now, has its roots in the original Dyna Convertible, and as such it's one of the most versatile Harleys.
Harley touts specifically the facility to remove the Switchback's screen and panniers in a matter of seconds, which needs some perspective: I can remove and then replace the panniers of my Tiger 800XC in the time it takes only to remove the Harley's, and while the Triumph's bracketry is ugly and Harley's barely visible, other bikes like the Multistrada have even better hidden mounting systems. Removing a Ducati's panniers is no slower than the Switchback's either.
As for the screen, the ability to detach this quickly is unique to Harley and therefore more worthy of bragging rights, although unlike the panniers, you're not the only one who could do this. I'm not sure quite what a thief would do with a Switchback screen, though if you see them popping up on eBay I'd suspect they've been stealthily plucked from unattended bikes, as you can't lock them in place.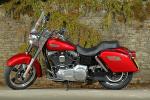 With screen and panniers in place the Switchback is a decent solo touring bike. The riding position is quite compact, although I was still very comfortable on board, upright on the bouncy foam seat with the bars set for a high but relaxed and natural stance. The screen does a good job up to about 70mph (110kph) at which point the vibrating buffeting which is hinted at when you're riding slower starts to be noticed. Take the bike up to 90mph (145kph) and this becomes tiring and intrusive, if no different to most other bar-mounted screens of this type. At a more typical 70-80mph though it's not a major concern, and lets you maintain motorway speeds for as long as you like.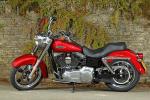 Remove it and you see just what a good job it was doing, as normal cruising speed becomes a muscle-limited maximum. You feel more perched on the Switchback than before and the bike even starts to feel more agile and wieldy, especially around town, although this is the case in reality to a small degree when the panniers are gone too - they're fairly heavy and stuck right out at the back in a very non-mass-centralised manner.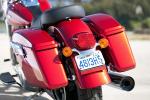 The panniers are one reason the bike is better suited to solo than two-up touring as they're not especially large, although my experience of this type of Harley pannier is that they are solid and waterproof. But the standard rear seat too isn't ideal for long distances as it's too small. Harley of course can sell you a larger one, but it won't be cheap. So if touring features large in your riding and it's mostly two-up, it'll be worth considering a Road King instead.
Note too that the passenger footrests are mounted directly on the swingarm, and some pillions might find it disconcerting that their feet are bouncing up and down with the rear wheel. As this is at the front end of the swingarm the movement is reduced, but it's still there.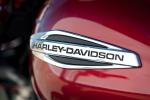 The fuel tank though could do with being bigger. At 3.9 gallons (17.8 litres, 4.7 gallons US) it'll be empty at just over 160 miles if you're getting just a little enthusiastic with the throttle, and then you'll achieve 42mpg (14.9km/l, 6.7l/100km, 35.0mpg US). A proper tourer or even sports tourer needs to be capable of more, even if the miles remaining counter lets you take the bike closer to empty than usual.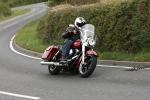 The Switchback is a sharper handling bike than Harley's tourers and more amenable to being bowled along curving backroads, although it's no sports bike in the conventional sense. Ground clearance is the main issue as the running boards scrape before the chassis is given a proper work out, but it's a lazy steering bike and fuelled up weighs a third of a ton, so it's certainly not agile. But like many Harleys it steers in a very easy, intuitive way and has excellent balance, and once you've dialled in to the feel and cornering limits it's still an enjoyable machine to hustle along.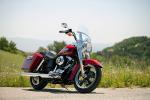 On the whole the ride quality is good, as Harley has made big improvements with its suspension in recent years, but the Switchback still struggles with the considerable unsprung mass of its front wheel and mudguard on rougher roads, as you feel a lot of harshness coming up through the bars and a sensation that the front is starting to float over the bumps rather than staying fully connected with the road.
I had no issues with the front brake though, despite there being just the one disc to retard this hefty machine. There's not a great deal of feel but sufficient power for the way the bike will be ridden, and the rear is much more effective than on most other bikes.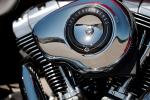 The engine is the real key to a Harley's character, and the Switchback is powered by Harley's latest Twin Cam 103 motor, 1691cc of languid torque delivery. There's no balance shaft in this motor, as fitted to the Softail versions of this engine, and it does seem a touch more responsive for that. The Dyna has two of its three engine mounts in rubber where a Softail engine is mounted solidly throughout, and what you feel is shaking and shuddering at lower revs but a surprising freedom from more annoying vibrations the rest of the time.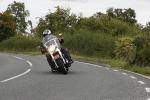 It responds crisply and faithfully to the throttle and sounds mellow but muscular in that distinctive Harley way, and unless you try revving it hard never feels like it's lacking in power. Harley's Twin Cam engines have always set the standard for cruisers and the 103 is no different, not simply because of the quantities of power and torque nor even its low revving delivery, but less quantifiably because of the way it sounds and feels, which is very good indeed.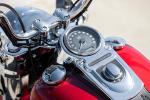 As on an increasing number of Harleys you can use a switch on the left bar to scroll through information in a small LCD display within the speedo, including gear and rpm, which constantly surprises with its very low numbers, like just over 2,000rpm at 60mph (100kph). But other details can still annoy, like the left-for-left, right-for-right indicator system which can self cancel just before you press to switch off, meaning you've switched them on again instead. The rear footrests look like refugees from a 70s commuter bike and some of the exhaust shield fixings are cheap, but the detailing does seem to be improving these days.
Overall though this is a bike which hangs together very well, helped by the easy pannier and screen conversion from naked cruiser to medium tourer. It looks good and it goes very pleasingly.
Specifications
Model tested: Harley-Davidson FLD Dyna Switchback
Price 2011/12: £13,499
Price US: $15,999
Available now
Engine: 45-degree V-twin, air cooled, twin cam pushrod 4v, 1691cc
Power: n/a
Torque: 93lb.ft (12.8kgm, 126Nm) @ 3,500rpm
Economy: 42mpg (14.9km/l, 6.7l/100km, 35.0mpg US)
Tank/Range: 3.9 gallons (17.8 litres, 4.7 gallons US) / 165 miles
Transmission: Six gears, wet multi-plate clutch, belt final drive
Chassis: steel twin cradle
Seat height: 27.4in (695mm)
Wheelbase: 62.8in (1595mm)
Rake/trail: 29.9 °/5.83in (148mm)
Weight: 706lb (320kg) dry