Harley-Davidson Blackline
By Kevin Ash - 16/12/2012
If you like to suffer for your style, you could do worse than consider Harley-Davidson's new 2011 Blackline.
A new Harley rarely means the same thing as a new bike from other manufacturers. The Blackline's no different as the engine and transmission are untouched and the same as many other Harleys, while the chassis is one of only three basic types spread among more than 20 models.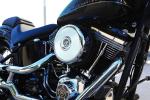 In other words you still get the seminal 1580cc, 45-degree V-twin which is one of the most recognised internal combustion engines in the world. It's a characterful, lazy engine that suits the laid-back cruiser riding style perfectly, thumping out torque from very low revs, vibrating just enough to communicate what it's up to without crossing the line and annoying you, supporting this with a muscular and rich soundtrack.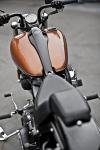 The Harley Blackline gets the company-generic six-speed gearbox includes a very tall overdrive top which has the engine almost idling as you bowl down a motorway at 70mph (112kph), and though you need to change down a gear or two to pep up the performance, when you do the motor responds crisply and dependably. It's quite economical too, capable of 45mpg (15.9km/l, 6.28l/100km, 37.5mpg US) without trying too hard to be gentle.
The rest of the Blackline is based on the Harley Softail chassis, designed to look like a 1940s hardtail through hiding the shocks beneath the engine and operating them by a hidden cantilever. There are several other Softail models and they generally feel much the same, with a harsh ride, not especially well damped and with short travel suspension that's easily defeated by the increasing number of big British potholes.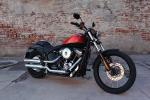 The new model designation comes instead from the styling, inspired by the pared down look of old sporting Harleys and finished with gloss black where much of the chrome and aluminium would normally be. This means black wheel rims, engine cases and various smaller parts such as the valve covers, lending something of a vintage air to the bike.
As always though, some detailing disappoints, such as the clumsy afterthought footrests and the industrial brackets and fixings, but overall this is a good looking machine with considerable street presence.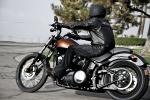 So what's to suffer? Sit on the Harley Blackline and see... The seat is extremely low, only around 27 inches (690mm) from the ground, so in turn your feet have to be pushed well forward. And they are, so much so you feel like they're almost level with the front wheel. Very oddly, the handlebars are also a long stretch forward, resulting in the sensation that you're being folded in half to fit onto the bike.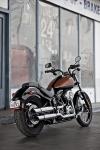 It would be good to report that this is surprisingly comfortable, but there's no surprise at all, it really is not a good place to be for a long time. Or even a short time. The thumping ride quality hits hard at your now-vulnerable kidneys through the seat while arms, legs and back start to ache by the end of your driveway. It's not even especially easy to control the bike at low speeds, so odd are the ergonomics, all of which is quite a shame as the 190 mile (305km) tank range and relaxed nature of the motor mean this ought to be a good bike to go places on.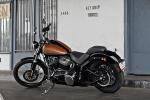 Instead, if you really must have a Harley Blackline, best to aim for nothing more demanding than urban posing and short Sunday runs. If you must have a Harley - and why not, there are some fine ones - then consider something like the equally good looking Superglide Custom, which is not only £1,800 cheaper, it has the much smoother-riding Glide chassis and a more reasonable seat and riding position.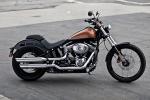 In fact this highlights the second Blackline problem: it's rather pricey for what it is when you compare it with other Harley-Davidsons. They're much more affordable than they used to be in comparison with the Japanese, who have been so hard hit by the huge rises in the yen in the last few years, but with better equipped alternative Harleys on sale for much less, the temptation in a Harley showroom must surely be to walk a little further along the sales floor, past the Blackline.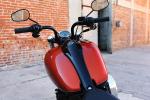 Specifications
Model tested: Harley-Davidson Blackline
Price: from £12,999
Available: now
Engine: 45-degree V-twin, air cooled, pushrod 4v, 1584cc
Power: 72bhp (73PS, 53.7kW)@ 4,500rpm
Torque: 92lb.ft (12.7kgm, 125Nm) @ 3,500rpm
Economy: 45mpg (15.9km/l, 6.28l/100km, 37.5mpg US)
Tank/Range: 4.2 gallons (19 litres) / 190 miles (300km)
Transmission: Six gears, wet multi-plate clutch, belt final drive
Chassis: Steel tube
Seat height: 26.1in (663mm)
Wheelbase: 66.5in (1689mm)
Rake/trail: 33.5 °/ 4.84in (123mm)
Weight: 683lb (310kg) (wet)