Gilera GP800
By Kevin Ash - 12/07/2012
It doesn't look like a new concept, but Gilera says that's exactly what the 839cc V-twin GP800 is.
To us it looks like just another scooter, albeit a pretty big one with masculine and well balanced styling. According to Gilera you'd enjoy riding it too, even citing bikes like the Ducati Monster 695, Suzuki SV650 and BMW F800 as comparable machines. You find out why they think so when you press the starter, as incongruously you're greeted by the beat of that big engine (pretty much the same motor as the one powering Aprilia's automatic Mana).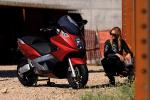 Then you pull away and you find out why they're wrong: no way is this the sports machine to take on a middleweight bike that they claim. It's far too heavy for a start at 540lb (245kg) dry, it's far too long with its 1593mm wheelbase (do you need a truck licence for that?) and the suspension is far too soft.
Buy it as a long distance commuter/tourer and you'll get much more out of it, and it's still fast enough to have some fun. Gilera claims a top speed of 120mph (200kph), and you might see more than that in the right conditions. Not at all bad for a scooter, and it's not scary at those speeds either, as you might expect. Crucially, it has a swingarm which is independent of the engine, like a bike's (scooter swingarms usually are rigidly attached to the engine, so the whole motor and transmission bounces up and down together over bumps) which means ride quality and wheel control are far superior.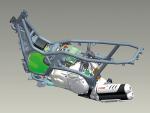 The frame is a classic Italian steel trellis, around twice as rigid as most other scooters', so it's stable even up to its top speed. That floaty suspension means you lose any sense of attachment to the wheels beyond about 85mph (140kph), and hard braking (which it does well thanks to a pair of four-piston Brembos up front) gets it squirming and snaking. But that's the price for the plush ride.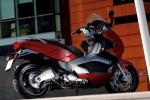 The motor makes 95 per cent of its peak torque at 3,500rpm, max torque at 5,750rpm and the power peaks at 7,250rpm, so the spread of useable grunt is as wide as the GP800 is long. This translates into steady but relentless acceleration: twist the grip at the lights and the GP800 pulls away strongly - not as fast as a motorcycle, but then again, you'd have to put some effort into beating it on your SV650, where the GP800 is dead easy.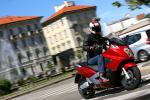 I guess that's why they call it twist and go. You tiwst, it goes, and it keeps on going, pulling with what feels like much the same level of acceleration beyond 90mph (145kph), when it finally relaxes a bit. Even so, the next 20mph (30kph) comes up pretty quickly, by which time car drivers are doing double takes as you flash past with a shopping bag between your knees.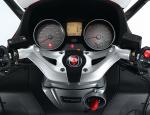 Try to make use of the grunt in corners though and the GP800 resists with a slow, ponderous rate of turn and bouncing unease when it gets bumpy. The steering at low speeds isn't great either, probably a combination of quite a high centre of gravity (the battery and coolant are stored either side of the steering head to move weight forwards), and the 16 inch front wheel (the rear's a 15 incher). It reminds me of older Kawasakis like the GPZ900R in the way it steers at low speeds, tucking in tightly and not feeling quite natural, just like many bikes in the 1980s when 16 inch wheels were fashionable. But it's still okay, and as you get faster it turns more naturally, it's just tight hairpins and mini-roundabouts which take a bit of effort.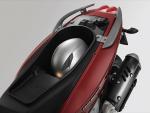 Gilera cites the combination of performance with the ergonomics of a scooter as an advantage, and I'm not convinced by that as a good middleweight bike if anything is more comfy than a scooter over distance, as you take more weight on your feet. Still, distance is what the GP800 is best at, more a mile-eater than sports machine, in which case it needs more storage space - isn't that what scooters are supposed to have? You can just, and I mean just, fit a full face lid beneath the seat, but there are no cubby holes in the fairing-leg shield region and nothing else unless you pay extra for the top box. You could fit that on a bike too of course, and have some panniers too, which you can't attach to the GP800, so it actually loses out to bikes in this respect.
Interesting then, fun for being an improbably fast scooter and executed very well, but looking for a reason to exist when most middleweight bikes do a better job, and costing more than its claimed motorcycle rivals too. As for being a new concept, no, it's just a maxi-scooter with the biggest engine yet.
Specifications
Model tested: Gilera GP800
Price 2010: £6,977
Available: no longer in UK
Engine: 90-degree V-twin, liquid cooled, sohc 8v, 839cc
Power: 64bhp (65PS, 47.8kW @ 7,250 rpm
Torque: 56lb.ft (7.8kgm, 60Nm) @ 5,750rpm
Economy: 42mpg (14.9km/l, 6.7l/100km, 35mpg US)
Tank/Range: 4.1 gallons (18.5 litres, 4.9 gallon US) / 170 miles (270km)
Transmission: Variable belt auto, chain final drive
Chassis: tubular steel trellis
Seat height: 30.7in (780mm)
Wheelbase: 62.7in (1593mm)
Rake/trail: n/a
Weight: 578lb (262kg) curb