Ducati Panigale - Living With...
By Kevin Ash - 16/12/2012
Riding Ducati's spectacular 1199 Panigale at the exotic Abu Dhabi circuit on its press launch was a huge privilege, and a dry circuit was essential to make a judgement about the bike's performance capabilities.
But it's far from ideal for finding out what this technologically magnificent motorcycle is like in more typical, everyday riding conditions. So I borrowed a Panigale S - the high spec version with the bulging electronics package - for a week's riding around town, on local outings and one 300 mile round trip over two days.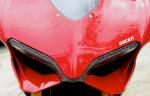 The performance has already been documented, here and elsewhere, and it's absolutely stratospheric. But for normal road use, this is less obvious. The bike packs an almighty punch as the rev counter soars past 8,000rpm, enough to lift the front wheel on power alone even in third gear. It's insane, compelling and exhilarating, but not very useful as the speeds at which this kind of action even begins are enough in some countries, including the UK, to have you teetering on the edge of a prison sentence. The best you can do are very short bursts while looking wildly around for anything which might sprout an unexpected blue light, which isn't really making the most of the bike's full potential.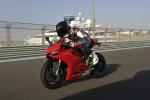 Below this rev level the bike is still searingly quick by general road vehicle standards, but it lacks the fearsome thrust of something like a Fireblade, and certainly doesn't come close to the urgent mashing drive of Ducati's own Diavel off the throttle at low revs. There's a hint of flatness too, enough to let you know the engine is out of its happy range and only being encouraged by the array of high end electronics.
Get it down to 4,000rpm and lower and the race-engine character comes to the fore in a different way, with a lumpy, uneven and raw feel that says it's doing this because it has to, but really this is rather beneath it. But if that sounds negative, it's not: unlike for example the MV Agusta F3, the throttle response is still predictable and the engine runs perfectly well, it simply feels like a very well sorted and tamed race engine. Which if you're buying an ultra high performance superbike, surely is what you want anyway?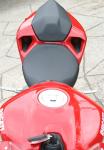 I loved it for that, though I'd exchange some of the top end horsepower I could never use for some more mid-range muscle. I'd also happily have the volume turned down a little. Now when you're stretching the motor (or as much as you can on the road) but when it's idling or just above as you're trickling along. It really is loud, and hardly a surprise that many UK circuits have been failing Panigales on track days in noise tests.
If you can't take it on track days then for many riders there's little point in owning one - that's what it's really built for after all. Happily Ducati UK has been in discussion with multiple circuit owner MSV to point out the Panigale does pass the noise regulations in ride-by tests, the ones that matter after all, and it is now being allowed on their circuits.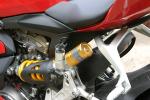 Pleasingly the Panigale is not quite the filling station hopper which was its predecessor, the 1198. It's still a thirsty beast, but at a steady 80mph (130kph) it returns 42mpg (14.9km/l, 6.7l/100km, 35mpg US), giving it an acceptable range of 160 miles from the 3.7 gallon (17 litre, 3.1 gallon US) tank. It takes a will of iron to hold it steady like this though, and as soon as you even dip a small toe into the performance pool the economy and range plummet, falling quickly to 35mpg ((12.4km/l, 8.1l/100km, 29mpg US) and 130 miles (210km) to dry. Really work it hard (not sure where...) and the low warning light will be on by 85 miles (140km). But that'll do, your brain will be fazed by then anyway.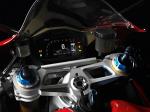 Remarkably, the on-board fuel computer proved absolutely accurate to within a tenth of an mpg. I checked the readings repeatedly against the bike's computer and they were never more than 0.1mpg different, an amount that could just as easily be due to variations in completely filling the tank. The mileage readings also appeared spot on when compared over distance with motorway markers.
Your body isn't treated too harshly though. It's not a tourer, which you'll have guessed already, but I managed a single hit 320 mile run without needing medical help at the end. I ached a bit but not excessively so, and only in generic sports bike places, like the backside and wrists with some neck twinges. There's a reasonable amount of room in fact, even with longer legs like mine and the bars aren't old-school Ducati, wrist-busting low, but more like a typical modern superbike and therefore acceptable for everyday use.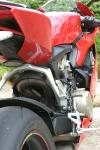 What is more of a pain is if you get caught in traffic on a summer's day, as the engine throws a lot of heat back at the rider. The silencers might have moved beneath the engine from the traditional underseat siting but a very hot pipe still loops under your bum and the seat gets very hot anyway. There's plenty more hot air swilling out from the engine onto your legs, to the point where you'll be swinging them out from the bike into cooling air whenever you can.
Ride in the rain and while the electronics look after you commendably, the mudguards don't. More specifically, if you ride on a wet road after the rain has stopped and think you'll stay mostly dry, your illusion will be shattered after a few minutes when your backside starts to get wet from water thrown up by the rear wheel.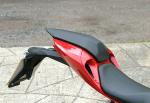 A passenger gets even wetter, but you won't be carrying one often as the rear seat accommodation is plain funny. The seat's the size of a credit card, it curves up painfully in the centre and it's perched so high Ducati ought to supply a stepladder to go with it. It's just about usable with a tall rider and diminutive passenger who adores sports bikes, especially Ducatis, gets on well with the rider and loves going fast... but if any one of those isn't in place, it doesn't work. Oh, and they get a hot bum too and will still want to get off before the fuel warning light comes on.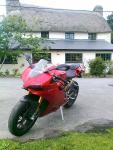 The headlights are the first LED ones on a motorcycle (Panigale S only). They look good and throw out an especially white light. But they don't work as well as conventional high intensity lights, having little penetration or spread. They'll get you home in the dark and they're better than some other lights, but aside from the light source itself, at best they're unremarkable.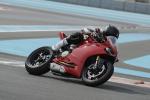 Dynamically the bike works extraordinarily well: anything else would be a shock. It's remarkably light, and my own weighing confirmed the honesty of the Ducati figures: correcting for the full tank measurement which Ducati gives, I measured 189.8kg, which is 1.8kg more than Ducati says, which fits perfectly as mine came with the passenger footrests and seat - the Ducati figure is in solo spec. The measured weight distribution is just under 53 per cent to the front, again tallying very closely with what Ducati says.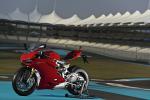 This means it's extraordinarily agile, to the point where it feels flighty and restless, although stability at speed is still perfectly good. The suspension is firm, too much so on bumpy back roads, and although you can soften it by using the 'Wet' setting on the electronic suspension menu, you also lose horsepower and throttle response with this. If it was mine I'd spend some time personalising 'Wet' to retain the sport settings but with softer suspension, just for bumpier roads. 'Wet' in itself isn't especially useful, even in the wet (and I had plenty of that...).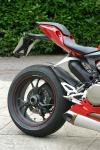 Servicing costs should no longer be an issue. The intervals alternating minor and major are set at 7,500 miles (12,000km) or at one year, but if you don't achieve the mileage in 12 months (and most won't) the full schedule doesn't need to be carried out, reducing costs. There's little to do anyway and components are more accessible than on previous Ducatis.
There are going to be riders who don't like the Panigale. The raw feel of the engine and the lack of torque are unrefined compared to most rivals, especially the Japanese, but for others this is exactly what they want. It oozes so much character you need a drip tray, and the bike has a massive presence that fully reflects the price tag - it looks like it's worth £30 grand rather than 20. If any single trait is really going to put someone off, it's the poor heat management.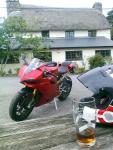 The lack of mid-range torque might be missed, but again, you're buying a full-on race bike that's little compromised for the road, and this is what you should be expecting. For me as an everyday, all-weather rider, I would absolutely adore having one of these in my garage, but first I'd have to have something more all-round practical to go with it. But as a pure, adrenalin-pumping, spine-shivering experience, the Panigale will exceed your expectations.
Specifications
Model tested: Ducati 1199 Panigale S
UK price: £19,750
Available: end Feb 2012
Engine: 90 degree V-twin, liquid cooled, dohc 8v, 1198cc
Power: 192bhp (195PS, 143kW) @ 10,750rpm
Torque: 98lb.ft (13.5kgm, 132Nm) @ 9,000rpm
Economy: n/a
Tank/Range: 3.75 gallons (7 litres, 4.5 US gallons) / n/a
Transmission: Six gears, wet multi-plate slipper clutch, chain final drive
Chassis: aluminium monocoque, engine stressed
Seat height: 32.5in (825mm)
Wheelbase: 56.6in (1437mm)
Rake/trail: 24.5 °/3.94in (100mm)
Weight: 415lb (188kg) wet
Measured weight:
front 99.9kg
rear 89.9kg
Weight distribution: 52.6% front