Ducati Multistrada Pikes Peak
By Kevin Ash - 15/01/2012
Ducati is commemorating its 2010 Multistrada victory in the Colorado Pikes Peak hill climb with a special edition.
The Multistrada 1200S Pikes Peak Special Edition is based on the Multistrada S Sport with a selection of extras, including a unique Ducati Corse style paint scheme with red wheel pinstripes, carbon fibre front mudguard, red seat stitching, black anodised rear footrest hangers and engine guard. Although the bike is fitted with a standard silencer it also comes with a carbon fibre Termignoni silencer and low screen.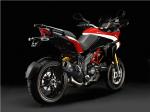 The bike will be available from May 2011 with a UK price of £16,750.
The Pikes Peak race, a climb of 4,718ft (1,438m) on a range of surfaces, was won by Greg Tracy, who will be competing again in 2011 on a Multistrada along with Alexander Smith.
Donate to the Kevin Ash Fund
Kevin's funeral was held on Thursday 28th February 2013 and was well attended by family, friends and colleagues.
The Telegraph has very kindly established The Telegraph Kevin Ash Fund to assist with the education of Kevin's three daughters.
If you'd like to make a donation then you can use the PayPal 'Donate' button below which will allow you to donate from your PayPal account, or via credit or debit card. A small percentage (about 3.4%) will be retained by PayPal for the service.
Kevin's family have been touched by the generosity and messages of support from people using the website and would like to express their gratitude to those who have contributed in any way.
The donations keep coming in, thank you so much, and the family especially like it when you leave a message.