Ducati MTS1200 Multistrada S
By Kevin Ash - 06/12/2010
It hardly needs an introduction, does it? The Ducati Multistrada is the most hotly anticipated, intensely discussed new motorcycle since- okay, since the Honda VFR1200F.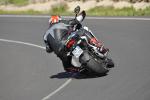 That was only a very short while ago, but still both of these machines have generated an exceptional amount of interest. The VFR though was hung out to dry by Honda's own publicity when it didn't quite live up the over-inflated expectations, on top of which it failed in some key points in its quest to be all bikes to all men. All it takes, after all, is one deal-breaker like the VFR's inadequate tank range, and the rest ceases to matter.
So has the Bologna factory slipped up? Would you love the Ducati Multistrada, but-? Alright, no teasing, you'll only scroll down to the end anyway: the MTS 1200 does exactly what it says on the box. It's not flawless, but it is a supremely clever and accomplished motorcycle that is more likely to do what Honda had promised of the VFR (test here), change motorcycling in the next decade.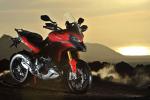 While the bike is clearly aimed at the adventure trail market sector forged then dominated by BMW with the GS series (2010 BMW R1200GS test here), it aims to bring with it a whole new level of sportiness and high performance not previously considered possible. And it's only due to developments in automotive electronics that it has become possible. The bike features four basic operational modes, which I'll describe in more detail in a separate feature: Sport, Touring, Urban and Enduro. These are selected by using the indicator kill button to navigate a menu in the circular sub-section of the high tech dash.
In Sport, the engine produces 148bhp with an aggressive throttle action, the suspension is firmed up and the traction control is backed off to intervene late. In Touring the power remains the same but it's introduced more gently by the twistgrip, the suspension is softer and the traction control are keener. Urban and Enduro bring the power down to 98bhp with appropriate adjustments again to the suspension and wheel control electronics. Ducati had been hoping also to change the ABS parameters according to mode but for now at least this doesn't happen, though it's a possible future development.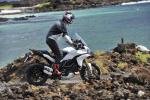 The suspension is more sophisticated than BMW's ESA II in two ways: first, the rebound and compression damping are adjusted independently as each has its own controlling stepper motor, where the German system uses just one motor to control both simultaneously. Secondly, it's possible to modify the default settings in each mode to your personal preferences. The system uses 5-25 out of a total of 30 damping settings, so you can make the bike firmer for example in Sports mode if you wish, and it will remember your settings, or if you get muddled, you can reset to default.
My test bike was in Sport mode when I swung a leg across it and settled down into the GS-alike riding position, comfortably in the bike rather than perched atop it. The screen though is much closer than the GS's, almost disconcertingly so when you're moving around the seat to set yourself up for corners. Ignition is keyless, all you do is slide the kill switch down and the dash activates in a high tech flurry of lights and colours. Flick the switch up to reveal the starter button, press that and the 1198cc motor churns into life, clacking and thumping as it should. There's no Ducati clutch rattle as the MTS 1200 has a more durable wet clutch, using its latest self servo design where the torque of the engine squeezes the plates together under load, meaning lighter springs can be used. The lever action is 25 per cent lighter than the 1198's in fact, and is an easy two-finger pull in.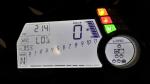 First engages with a bit of effort and a clunk, and the bike pulls away smoothly, with excellent low speed balance and easy control from the wide bars. Ease out onto the road, pick up the revs and turn the twistgrip to see how it reacts- if you've got more than 4,000rpm dialled in, the bike punches forward with shocking force, instant, hard and nonchalantly lifting the front wheel. No boxer twin ever did anything like this-
There's more mid-range torque than the 1198, and that's hardly lacking in this respect. The Multistrada carries more weight of course, but not enough to dull its near-superbike performance. And it keeps on coming, fading more as the revs rise than the 1198, but still topping out with the speedo the far side of 160mph.
Stability isn't quite sports bike, thanks to that longer travel suspension with some 170mm (6.7in) travel at each end, but even at these silly speeds it's just a bit vague rather than properly wobbly. The feeling starts from about 100mph, but to put it in perspective, this is by far the most accurately tracking bike in the class, it's just that it begs to be compared with full-on sports bikes.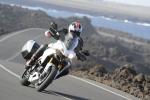 There's plenty of power available from the brakes but you do better to squeeze them smoothly rather than grab- it's that fork travel again, causing the front to dive down hard and then, especially if the road's bumpy, to trigger the ABS prematurely before things settle and it goes quiet again. You could always add more compression damping via the dash if you wanted, though this might spoil the excellent ride quality (even in Sport mode), which makes you realise why boring old telescopic forks and chain drive still have something over shafts and Telelever. They're lighter, and it shows when you're wanting the wheels to follow a bumpy surface. It does help of course that the suspension is Ohlins' finest, including the latest technology TTX twin tube technology rear shock.
Change direction and this is still Italian sports bike: the Ducati Multistrada flicks side to side with an agility not seen before in this class, far quicker than the GS and with a very natural feel too despite the high riding position. The raised rear of the seat curves around your backside which can make it slightly awkward sliding out of the seat, otherwise this doesn't feel anywhere near as alien as most tall bikes being hustled through turns. You do find, at first anyway, that the bike tends to take a wider line than you were expecting - that'll be the long wheelbase - but it responds to a correcting nudge of the bars immediately and obediently, and you adapt soon enough anyway.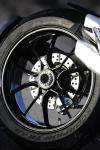 The Pirelli Scorpion Trail tyres, developed especially for the Multistrada, are astonishingly good. The rubber has dual tread compounds, grippier on the outside edges and more hard wearing in the centre, which is also tougher for off-road use. The tread pattern is designed to offer some loose-surface grip without upsetting road stability or feel, and it does just that - you just treat the tyres like any other sports tyre and they respond with accuracy, grip and feedback. It's fair to say the Ducati Multistrada concept has been enabled by these Pirellis. The bike has also been tested with Dragon Corsa rubber and apparently works even better as sports machine, but you can't get any more dirt-biased tyres in the 17 inch wheel sizes or the 6 inch wide rear rim. Pirelli is looking at making some if there proves to be enough demand, but doesn't think this is likely. I'm sure they're right.
As a sports bike then the Multistrada 1200 wears the Ducati badge uncompromised, so scroll down to Touring, hold the button for three seconds to select, and if the throttle is open, close it briefly for the mode to change. Both suspension and power delivery soften and the bike feels more friendly. The difference in damping isn't great, but you do notice when you start pushing hard as the bike starts to wallow where in Sports mode it was more settled. The power delivery is easier and you don't have to concentrate so hard, just open it to go and enjoy that muscular mid-range.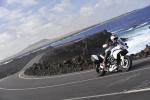 You'll not be wanting the top end horsepower any more, but might drop down the scale, and here the bike is less impressive, at very low revs jerking more and being less happy. The BMW will slow almost to idle and still chug along happily, but with its chain drive and lumpier power pulses, the Multistrada is less comfortable, though not obstructively so. Urban or Enduro modes improve things slightly, but riders who do a lot of low speed trickling (sub 30mph) and who would never utilise the MTS 1200's performance might consider sticking with a GS. Again some perspective: plenty of 1198 riders are happy enough around town, and the Multistrada is considerably better than that, so it's not a major issue.
More time now to consider the ergonomics than getting around the next corner, and things here mostly are good. The screen is small but keeps wind pressure at bay with no serious turbulence - there's a little when it's raised and none when it's lower, and while it won't keep you dry it does let you cruise at three figure speeds indefinitely. There are some feet problems though. Your right heel is kicked out slightly by the passenger footrest mounting, an irritant I got used to and forgot about, but if you have the centre stand fitted, its long lifting arm pokes right up where your left heel wants to be, unless you ride with the arch of your foot on the footrest. I tend to slide my feet further back than that, and found I was pushing the centre stand down, so much so that it scraped the ground a few times in mild cornering. I'd have to either cut the arm right back and put up with a heavier leverage getting the bike on the stand, or remove it altogether, but I couldn't leave it as it is. The stand comes with the Multistrada S Touring package, and is an option on the other models.
The mirrors are truly excellent, and I never thought I'd say that in a Ducati report- There's no vibration worth mentioning from the engine at steady speeds and they're large and set well out, so the rear view is outstanding. You do notice some vibes when you're revving the motor and under load the bike shudders with the torque pulses, but you won't find any of your extremities going numb or being bothered.
Touring bikes need more than comfort of course, tank range is important too. It was difficult judging this on the press launch as there was a very wide range of riding, including near flat out and full bore acceleration, as well as very gentle stuff. I was achieving around 41mpg, but would expect at least 45mpg in every day riding, possibly a fair bit more bearing in mind Ducati's claim for the MTS 1200 of 57mpg at a steady 75mph. But the bike should be fine for a GS-matching 200 mile range at least so this isn't going to be a VFR-type issue.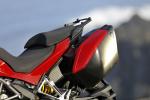 The luggage could be better though. The right pannier is a lot smaller than it looks as there's a large cut-out to pass the exhaust gases, but the left will easily take a full face helmet, and with the optional larger lids and big topbox you should have enough capacity for typical trips. It feels flimsy though, and on our test bikes the lids fitted poorly, so much so they would definitely leak profusely in the wet. This is likely to improve on production versions as manufacturer Givi is still finalising the mould shapes to ensure the lids cool without distorting into the wrong shape, which is normal practice. But I do suspect they will still flex too much in use and not be waterproof.
You operate them with the bike's ignition though, which would be good as long as you remember to leave it somewhere convenient - it only needs to be in your pocket to start the bike, so it would be easy to tuck it under a few layers of clothing by mistake.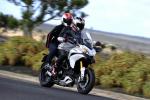 Passengers are well looked after. There's plenty of fore and aft room and you don't feel too precarious, although the bike does accelerate violently and you need to hold on. With the panniers fitted you're okay if you have the arches of your feet on the pegs, but they won't move back any further. The grab rail is all around you and offers good support, though larger bottomed pillions might find their cheeks are resting on it lightly. But comfort appears to be good, as far as can be judged after a short ride. Importantly, life is good for the rider with someone on the back. Adjust the loading mode appropriately (that same button and intuitive scrolling again) - you can have solo, with luggage, with passenger or with both, in any of the four main modes - and the bike steers and rides beautifully, remaining stable and steering neutrally. It's a real pleasure two-up in fact, and this is, on the quiet, one of its most impressive features, as it shows how deeply Ducati has thought about the Multistrada (feet ergonomic oddities aside-).
There's less to say about Urban mode as it simply quietens the bike down without causing any problems. The engine is at its smoothest at low revs, though it could still be improved as mentioned, and sudden throttle movements won't launch you into orbit. It soaks up potholes well, stops efficiently and generally is unintimidating, while that high up riding position works very well for seeing ahead in traffic. The reach to the ground isn't too bad, though shorter riders might struggle and want to opt for the low seat, which is a useful improvement for them.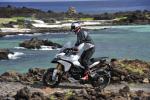 Off road the Multistrada copes well, although as with the GS, you'd not really attempt anything too ambitious. According to Pirelli's testers the two bikes have similar capabilities in the dirt, although I'd temper that by expecting the Ducati to cope less well with soft conditions such as sand. That 17 inch front wheel can feel nervous even on harder stuff, but in anything the tyre sinks into I imagine it will be very eager to tuck in and dump you. Stick to forest fire trails and you'll be fine.
Ducatis have often scared off potential owners with their running costs, but the company says now that in comparison with its four main (unnamed) rivals, the Multistrada MTS 1200 is about the same in the first year (and not the most expensive) after which it becomes the cheapest of all to maintain. Major services where the valve clearances are checked and the cambelts are changed occur at 15,000 mile (25,000km) intervals, and neither operation is especially difficult or costly. In between it asks only for oil and filters.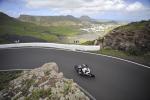 I'll be adding more Multistrada features in the next few days, but as far as the riding experience is concerned - the most important aspect after all - the MTS 1200 S absolutely rocks. It's searingly fast, laden with torque, handles superbly, the electronics not only work they're extremely useful, it's comfortable, characterful, beautifully made, and one of the most exciting motorcycles you can buy. If you've placed an order already- lucky you!
Prices
Prices are £10,995 for the base model (not tested), £11,695 for the ABS version and £14,295 for the 1200 S Sport and Touring models.
Specs
FULL DUCATI MULTISTRADA S SPECIFICATIONS HERE
Adventure Bike Specs Shoot-Out Here!
Testastretta 11 Degree engine tech feature here
Other Adventure Bikes
Triumph Tiger 800 Review here!
Other recent Ducati tests:
Forum